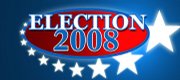 In-depth coverage of the candidates and the issues, all leading up to the Aug. 5 primary and the Nov. 4 general election.
Democratic presidential candidate Sen. Barack Obama of Illinois will campaign Tuesday in Kansas City, Mo.
Obama has visited Missouri, a key state in his campaign strategy, several times in the past couple of weeks. Details about his trip have not yet been announced.
In addition to Missouri, Obama plans to campaign in coming days in three other battleground states: Iowa, Wisconsin and Montana.
Next Thursday, Obama is expected to deliver his acceptance speech at the Democratic National Convention in Denver.
Copyright 2018 The Lawrence Journal-World. All rights reserved. This material may not be published, broadcast, rewritten or redistributed. We strive to uphold our values for every story published.