On the street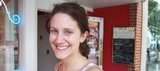 The violin. I think it's really emotionally affecting, and I like it as the fiddle in bluegrass music.
They are two siblings who have bonded through a guitar and fiddle.
The O'Shea Sisters - it's the band name and last name for Erika and Shannon. They took home an honor for ensemble folk singings at last year's Kansas State Fiddling and Picking Championships in Lawrence.
"We didn't think we were going to win at all. Well, I didn't," said Erika O'Shea, a Bishop Seabury Academy graduate who started Thursday as a Kansas University freshman.
"I did," said her sister, who is a Seabury junior.
The sisters are not eligible to compete in that category after their win last year, but they will be featured in this year's 28th annual edition of the championships this weekend in South Park.
The championships begin at noon Sunday in South Park, and they will cap off a busy weekend of music and entertainment in Lawrence.
The city is also presenting Busker Fest 2008 Saturday, where musicians and street performers will be placed around downtown. The O'Shea Sisters will play as part of the fest from 5:30 p.m. to 6 p.m. Saturday at 10th and Massachusetts streets.
The fiddling and picking championships include competition in fiddle for youth and a senior division; flat-pick guitar; finger-pick guitar; mandolin; banjo; ensemble folk singing and miscellaneous acoustic instruments.
Competitors can start to register at 11 a.m. Sunday, and the contests begin at noon. Other events begin Saturday with workshops in acoustic music and dance, plus and ice cream social and a jam session. Food sales, art vendors and educational events will also occur in the park Sunday.
Coordinators Gayle Sigurdson and Lauralyn Bodle expect 80 to 100 musicians to enter from Kansas and Missouri.
"It's real important because, first off, I love the music, and you want to see it continue," Sigurdson said. "Part of this music is the community. It's music as a participation sport. You're not just an observer."
The O'Shea Sisters will be featured from noon to 12:30 p.m. Sunday in South Park. Other Kansas musicians and past winners performing are Dan Bliss, MAW and the Thomas/DeLancey Trio.
Shannon and Erika O'Shea got their start playing folk, blue grass and country music four years ago. Shannon had played classical music for 11 years, but when Erika picked up a guitar four years ago they became a team.
They also now have a bass player, Stephen Mason, a Lawrence High School senior.
Their style of music doesn't always register on the radar of listeners their age, but they see their enthusiasm for bluegrass as important.
"It's interesting I think because we're bringing back a very strong American tradition," Erika O'Shea said.
For more information about the championships, visit www.kansasfiddlingandpicking.org.
Copyright 2018 The Lawrence Journal-World. All rights reserved. This material may not be published, broadcast, rewritten or redistributed. We strive to uphold our values for every story published.