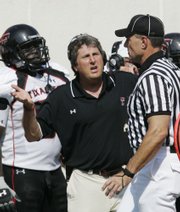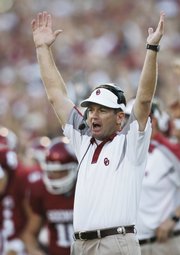 What Keegan says
Missouri doesn't play Oklahoma, at least not in the regular season. Kansas does play Texas at Memorial Stadium.
The supremacy of the Big 12 South is at stake. KU, a program on the rise, is picked to finish second in the North. Texas, a program fighting to get back to where it was with Vince Young at quarterback, is picked to finish second in the Big 12 South, though some believe Texas Tech is every bit as good.
The Big 12 South's dominance, which faded some last season with the emergence of the Missouri and Kansas programs, is at stake. That and Mark Mangino's 2004 postgame assertion that the officials tilted the game in favor of Texas makes the Nov. 15 game between the Jayhawks and Longhorns this year's biggest Big 12 contest.
- Tom Keegan
Five teams have legitimate shots of winning the Big 12 Conference this upcoming football season.
All due respect to Nebraska, Colorado, Kansas State, Iowa State, Oklahoma State, Texas A&M; and Baylor: It's just not going to happen this year.
However, the conference looks as powerful as it's been since 2001, when the Associated Press ranked four Big 12 teams in the top 10.
This year, five conference teams have top 10-like expectations: Oklahoma, Missouri, Texas Tech, Kansas and Texas.
Lofty expectations will translate to more Big 12 buzz on the national radar. And we're not talkin' buzz in the form of YouTube clips of punt returners getting chewed out for diving into the end zone, or coaches stating their gender (male) and age (40) during a press conference tirade.
There are plenty of Big 12 games this year. Ninety-six, to be exact.
But which will be the biggest one this fall?
In a conference with five ranked teams, this was difficult to determine. Several factors were considered: Implications on the conference standings, AP rankings, when in the season the game will be played, the location of the game, history between opponents and a Journal-World sports department/6Sports poll.
After considering these factors, here are my conclusions from the biggest games of the 2008 Big 12 season:
1. Texas Tech at Oklahoma, Nov. 22
Why this game?: Because it could very much decide the Big 12 South Champion. And let's face it, the South typically prevails in the Big 12 Championship game. If this puts it in better perspective, the South has won the last four Big 12 Championship games by a combined score of 171-30.
This was almost too close to call, though. In my Journal-World poll, which surveyed 12 sports employees, the biggest 2008 game was determined to be a tie between this game (four votes) and Kansas vs. Missouri (four votes) in Kansas City, Mo. (four additional people picked other games). KU-MU was unquestionably the biggest game last season. It could be this year, too, but both teams would have to go through the entire year unscathed for it to be nationally monumental again. I think Oklahoma and Texas Tech have a better chance of going undefeated before their showdown.
Texas Tech has had OU's number two of the last three years, which will make this game even more interesting since OU's season will be considered a disappointment if it doesn't win the national title.
All-time series: OU 11-4.
2. Kansas vs. Missouri in Kansas City, Mo., Nov. 29
Gem of the North: Last year's Border War was the most prominent in the history of the rivalry. The oldest rivalry west of the Mississippi is so intense that the two teams can't even agree on an all-time series record (both schools say they have a 54-53-9 advantage; the 2008 Big 12 Media Guide states KU has a 54-53-9 advantage, for reference).
If Kansas and Missouri enter this game both ranked in the top 5 like last year, consider this list wrong and flip-flop No. 1 and No. 2.
All-time series: KU 54-53-9.
3. Oklahoma vs. Texas in Dallas, Oct. 11
Historic gem of the Big 12: The Red River Shootout is the biggest game in Big 12 Conference history (1996-present).
UT's a little down this year - in UT terms - and the game occurs too early in the year for it to have a final say in the conference standings.
All-time series: UT 57-40-5.
4. Texas at Kansas, Nov. 15
Dollar signs: The last time these two played, the Longhorns went wild on the Jayhawks at home and won, 66-14, in 2005. However, UT and KU have history at Lawrence's Memorial Stadium. This year will mark the four-year anniversary of KU coach Mark Mangino criticizing the officiating after UT's 27-23 come-from-behind victory. The play in question was a late offensive pass interference on KU's Charles Gordon with 2:54 remaining and KU leading, 23-20, at the time.
UT went on to win the Rose Bowl and finish the season at 11-1. KU finished that season 4-7.
All-time series: UT 6-2.
5. Missouri at Texas, Oct. 18
The importance: If the Big 12 North wants to prove itself against the Big 12 South this year, this game will be a key part of the shift in conference power. Missouri (No. 6) didn't face Texas (No. 11) last year, and when it went up against a Big 12 South power - Oklahoma twice - it lost both times.
All-time series: UT 15-5.
6. Texas at Texas Tech, Nov. 1
Is Tech worthy?: The Red Raiders (No. 12) haven't defeated the Longhorns (No. 11) since 2002. They've never won the Big 12 or even competed in the conference championship game. If Tech wants its first chance, it would have to bump UT to third in the Big 12 South. A victory in this game at Lubbock would do that.
All-time series: UT 42-12.
7. Kansas at Oklahoma, Oct. 18
Lucky number seven: KU fans have heard the doubters for more than a year now. The monotone pessimism goes something like this: KU didn't face OU, Texas or Texas Tech last year. Let's see what they're made of in 2008. Well, this is the first game on the Jayhawks' 2008 schedule against a South powerhouse, and the first opportunity this fall KU could silence a slew of doubters.
All-time series: OU 66-27-9.
8. Texas Tech at Kansas, Oct. 25
No lack of offense: Defensive purists may not want to tune in to this one, which will showcase two of the top scoring spread offenses in the nation. The Jayhawks averaged 42.8 points per game last year, while the Red Raiders averaged 40.9. Both quarterbacks return. Enjoy the show.
All-time series: TTU 9-1.
9. Missouri vs. Illinois in St. Louis, Aug. 30
Why nine: The "Arch Rivalry" game has gone the way of the Tigers the past three times (2007, 2003, 2002). The combination of it being opening weekend and the fact that ESPN Is televising the game will make it a highly-watched contest between MU (No. 6) and Illinois (No. 20). In the grand scheme of the season, though, this game won't mean a lot - that's why it's not higher on the list.
All-time series: MU 14-7.
10. Kansas at South Florida, Sept. 12
How it snuck in: Essentially, preseason rankings (KU No. 14, USF No. 19). It's the first time South Florida has ever been ranked before the season. There's little history here, but the Friday-night atmosphere on Sept. 12 in front of a national audience on ESPN2 should attract a large audience.
All-time series: KU 1-0.
Other notable non-conference games
¢ Iowa State at Iowa, Sept. 13
¢ Arkansas at Texas, Sept. 13
¢ Oklahoma at Washington, Sept. 13
¢ Kansas State at Louisville, Sept. 17
¢ West Virginia at Colorado, Sept. 18
¢ Miami (Fla.) at Texas A&M;, Sept. 20
¢ Virginia Tech at Nebraska, Sept. 27
¢ Colorado vs. Florida State in Jacksonville, Fla., Sept. 27
Copyright 2017 The Lawrence Journal-World. All rights reserved. This material may not be published, broadcast, rewritten or redistributed. We strive to uphold our values for every story published.