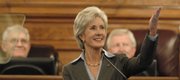 Kathleen Sebelius is the nominee for Secretary of Health and Human Services in Obama's Cabinet. She has served as Kansas' governor since 2002 and before that was insurance commissioner and a state representative.
Breaking Political News
Want to be among the first to know about news on the Nov. 4 election? As soon as results are in, or whenever breaking political news happens, the news will be in your e-mail or on your cell phone - you choose.
-->
Topeka — Kansans know what the "Final Four" means.
Anything can happen.
And by most media accounts on Tuesday, Gov. Kathleen Sebelius is in the "Final Four" of possible Democratic vice presidential running mates.
Presumptive Democratic presidential nominee U.S. Sen. Barack Obama of Illinois will announce his decision any second, or in a couple of days. His campaign has announced that on Saturday, Obama will appear with his new running mate in Springfield, Ill., the city where he launched his campaign.
No one outside a tight group of advisers knows who is under consideration for vice president and who might ultimately get the call.
But it seems that most media covering the campaign have focused on Sebelius, U.S. Sens. Joseph Biden, D-Del., and Evan Bayh, D-Ind., and Virginia Gov. Tim Kaine. Democrats were giving U.S. Sen. Hillary Clinton, D-N.Y., a long-shot chance.
"If Barack Obama could pick someone who he would most like to work with, Governor Sebelius has a very good chance," said state Sen. Marci Francisco, D-Lawrence.
Earlier Tuesday, Sebelius was in Warren, Mich., conducting a town hall meeting for Obama. She declined to comment on the vice presidential search.
Kansas University political science professor Burdett Loomis, who worked for Sebelius during her first term as governor, agreed that Sebelius and Obama seem to have a great personal relationship.
But with the campaign tightening between Obama and presumptive Republican nominee U.S. Sen. John McCain of Arizona, Obama needs to ask himself "what am I going to get politically?" Loomis said.
While the mention of Sebelius as a potential running mate is a great tribute to her, Loomis doesn't think she would help the ticket much in key battleground states.
Washburn University political science professor Bob Beatty said he believes Biden's stock has risen in recent days because of his foreign policy expertise and the recent Georgia-Russia crisis.
Also, Beatty said, on the campaign stump Biden can be a "tiger."
Both professors said that of the so-called "Final Four" Sebelius probably is the least favored.
Copyright 2018 The Lawrence Journal-World. All rights reserved. This material may not be published, broadcast, rewritten or redistributed. We strive to uphold our values for every story published.