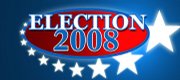 In-depth coverage of the candidates and the issues, all leading up to the Aug. 5 primary and the Nov. 4 general election.
While he made the rounds in Lawrence on Monday, U.S. Rep. Dennis Moore, D-Kan., said expanding off-shore oil and gas drilling was no cure-all to the nation's energy supply problems.
"I really, truly believe what we need to do again is take a comprehensive approach: renewables, alternatives, wind energy," Moore said. "Whatever Kansas could do with wind energy is a small, but very important, part of an overall solution, I think."
With higher gasoline prices looming as a major economic concern nationwide, House Speaker Nancy Pelosi, D-Calif., last weekend said she would consider measures that would open up more coastal areas for oil and gas exploration.
Moore said administration sources have told him even if off-shore drilling expanded, it would take eight to 10 years to see lower gasoline prices and then "you're talking about 3 to 5 cents a gallon."
"This is not - contrary to what some people are saying - a solution to the problem for our country," he said.
But those representing Moore's opponent in the Nov. 4 election, state Sen. Nick Jordan, a Shawnee Republican, said that during five terms in Congress, Moore has not come up with a comprehensive energy strategy, including more off-shore drilling.
"He's been a part of the problem, not part of the solution," said Dustin Olson, Jordan's campaign manager.
The 3rd District of Kansas includes eastern Lawrence, eastern Douglas County and Johnson and Wyandotte counties.
Moore did say the technology has improved recently to make the drilling less environmentally risky, but he stressed the need for a comprehensive energy strategy.
Copyright 2018 The Lawrence Journal-World. All rights reserved. This material may not be published, broadcast, rewritten or redistributed. We strive to uphold our values for every story published.