Photo Gallery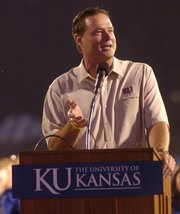 KU Traditions Night 2008
The noise when Bill Self entered Memorial Stadium on Monday was almost deafening.
The theme of Kansas University's Traditions Night was "A great place to be a champion," and the men's basketball coach's appearance drove that point home for the several thousand students.
For the past 24 years, students and community members have gathered to learn about everything from the waving of the wheat to the history of the Jayhawk for the kickoff of Hawk Week.
But Monday was the first Traditions Night appearance of the National Championship-winning coach. His message was succinct.
"Have some pride in your school," he said over raucous cheers. "Because you may be attending the coolest school in the country."
James Carothers, professor of English, presented the history behind KU's alma mater, the Rock Chalk chant and the school's academic legacy.
For Wichita freshman Taleeda Crawford, these traditions are what brought her to KU.
"My high school was known for its pep," she said. "KU reminds me of that."
Chancellor Robert Hemenway's speech acted as an underscore for the evening's celebration of its recent basketball and football accolades.
"What kind of tradition does KU have?" he asked. "Why don't you try a tradition of championships?"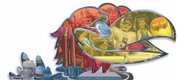 From artists to inventors, Kansas University is home to all kinds of people. In the past year, the university has opened new buildings and hosted world-renowned speakers. Come inside to learn more about the university on top of Mount Oread
On the street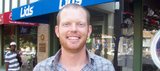 I would say walking down the hill on graduation day. All of my friends who have graduated said it was a memorable experience. I haven't had my chance yet, but I'm looking forward to it.
Copyright 2018 The Lawrence Journal-World. All rights reserved. This material may not be published, broadcast, rewritten or redistributed. We strive to uphold our values for every story published.