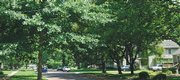 Welcome to our ongoing project, LJWorld.com/Green. Here you can find tips on how to make your life environmentally friendly and read stories about what others in the community are doing to live a more green lifestyle. Eat local, conserve resources, be green.
Farmers finding bigger profits by selling locally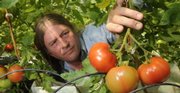 -->
-->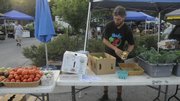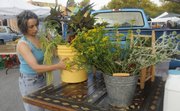 Lawrence chefs look forward to the fruits of summer.
"You haven't had a peach until you've had one from around here," said Rick Martin, who has been executive chef at Free State Brewery for 17 years.
The downtown restaurant has been serving peaches grown by Lawrence farmer Kevin Irick in cobblers, dressings and ice cream sorbets.
It's just one of the many items that Free State purchases from local farmers. Last year, Martin said the restaurant spent about $220,000 on local breads, vegetables and meats.
"I think we are going to eclipse that this year by a sizable amount," he said.
Martin estimated that locally-grown foods make up about 25 percent of the menu's items during the peak summer season.
"I would love to be completely local, but it's not possible," he said. "It is getting more and more so, but there's just so many commodity items that can't be produced locally."
Irick is doing his best to help out. Besides peaches, he also sells tomatoes, basil, blackberries, squash and broccoli to Free State.
"This time of year, we are just trying to keep up," he said.
Irick also sells his homegrown produce to Pachamamas, Global Cafe, Genovese and Local Burger. He said he "got his foot in the door" by having a booth at the Lawrence Farmers' Market, which is frequented by chefs such as Martin and Melinda Roeder.
Roeder, executive chef at Marisco's, finds the Lawrence Farmers' Market to be inspiring. For example, she might plan to purchase cantaloupes, but once she gets there, she might end up buying peaches instead.
"You never know what you are going to find there and so it's like a treasure hunt, if you will, and then your menu kind of works from there," she said.
Price is right?
Lawrence chefs said local farmers' prices were comparable to what they paid food distributors. For some items, they might pay more or less, but they agreed that nothing beats the taste of homegrown produce.
"A fresher product comes to us ripe as opposed to buying tomatoes that were grown in California, picked when they were green, kept in a warehouse and then ripened with gas. It's awful as opposed to picked-off-the-vine," said Shawn Miller, sous chef at Teller's.
"You might pay a little more for the quality, in my opinion, but you are not paying extra shipping costs and gas costs that are starting to show up on our invoices from bigger purveyors," he added.
Miller said the downtown restaurant tries to purchase as close to home as possible. Teller's menu also features Kansas beef and local pork chops. They plan to can fresh tomatoes to use in sauces this winter.
"We try to get everything from as close to the restaurant as we can," he said.
Rick Renfro, owner of Johnny's Tavern, buys sweet corn during the summer from Bismarck Gardens in North Lawrence and offers it at his restaurant. He occasionally purchases produce from the farmers' market for sides and toppings.
"Homegrown tomatoes are great. I personally won't eat corn out of season or tomatoes," he said.
Not always feasible
Renfro said he would like to serve more local offerings, but it isn't feasible for his business. Wheat State Pizza manager Joe Scholz said he has considered buying local produce, but found it wasn't doable either.
"The feel of this restaurant is a local establishment and we just want to be a part of the community and support other local business," he said. "But, for now, it's just easier for us to order from a larger food wholesaler."
Scholz said he expected the pizzeria would be revisiting its decision within the next couple of years as fuel prices continue to inflate delivery rates and the local-diet trend continues to grow.
Lawrence resident Chris Henkel said he is more apt to eat at restaurants that offer more than the standard fare, especially if it is grown locally. He also is willing to pay extra.
"Definitely, it's worth it," he said.
Copyright 2018 The Lawrence Journal-World. All rights reserved. This material may not be published, broadcast, rewritten or redistributed. We strive to uphold our values for every story published.