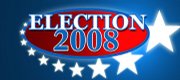 In-depth coverage of the candidates and the issues, all leading up to the Aug. 5 primary and the Nov. 4 general election.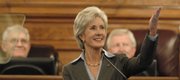 Kathleen Sebelius is the nominee for Secretary of Health and Human Services in Obama's Cabinet. She has served as Kansas' governor since 2002 and before that was insurance commissioner and a state representative.
Local delegates are preparing for what they hope will be a successful Democratic National Convention that will lead to retaking the White House in November.
"This is an immense opportunity for the country to get back on the right track, and I want to be part of it," said attorney Margie Wakefield, who is attending her first national convention.
The Democratic National Convention will be Aug. 25-28 in Denver. For Democrats, the main purpose of the meeting is to launch presumptive nominee U.S. Sen. Barack Obama, D-Ill., onto a winning track in the Nov. 4 general election against presumed Republican nominee U.S. Sen. John McCain, R-Ariz.
For Kansas Democrats, the convention takes on added significance because of the rising star of Gov. Kathleen Sebelius.
Sebelius is serving as co-chairwoman of the convention, has obtained a coveted nationally broadcast speaking slot during the festivities, and, more importantly, has often been mentioned as a possible Obama vice-presidential running mate.
"That is incredibly flattering to her and our state," said delegate Tess Banion. "It would be great for our state (if Obama picked her). She has been a great governor."
The convention also is geared to get the party fired up for all the races for Congress, the Legislature, State Board of Education and other contests.
While Obama is not expected to carry Republican-rich Kansas, he is expected by Kansas Democrats to run more strongly than recent presidential Democratic candidates.
"I think that will have a positive effect down the ticket," said Paul Davis, a delegate and state legislator from Lawrence.
Delegate Cori Allen, who just graduated from Free State High School, said Obama has ignited the interests of young voters, and some Republicans and independents.
"I've talked with people who usually vote Republican who are so happy to see a candidate attacking the problems rather than their opponent," Allen said of Obama.
There is a theory that Democrats in Kansas have pretty much reached the limit of their potential - holding the governor's mansion and two of four U.S. House seats.
But Banion said there is room to grow. Johnson County is an example where Democrats are making inroads, she said.
"The old party allegiances are changing, especially in times of trouble," she said. "We are not going to become a blue state tomorrow, but Democrats are in good shape and very likely to get better."
Copyright 2018 The Lawrence Journal-World. All rights reserved. This material may not be published, broadcast, rewritten or redistributed. We strive to uphold our values for every story published.