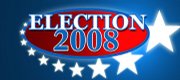 In-depth coverage of the candidates and the issues, all leading up to the Aug. 5 primary and the Nov. 4 general election.
Most challengers to area incumbents in state legislative races are holding their own in fundraising as the Nov. 4 general election nears.
Republican Scott Morgan, a Lawrence school board member, received more campaign contributions through July 24 in the state Senate race against incumbent Democrat Marci Francisco, a former Lawrence mayor.
Democrat John Wilson, of Lawrence, raised $6,000 more than incumbent Rep. Tom Sloan in the 45th district House race. Sloan, who has served in the Legislature since 1995, still has a huge advantage with cash on hand, $80,209 to $12,881.
Democrat Stephanie Kelton, of Lawrence, also brought in more money than incumbent Republican Anthony R. Brown, Eudora, in the 38th District House race.
And in a match-up between two experienced legislators, Republican Sen. Roger Pine, Lawrence, pulled in $16,625, while his challenger Tom Holland, a Baldwin City Democrat who has served in the House since 2003, raised $12,350.
But Holland has the advantage of relying on $62,454 in previous funds, which includes a $30,000 loan to his campaign. He had a $28,000 advantage on money in the bank over Pine.
In the Morgan-Francisco Senate race, Morgan collected $7,595 in donations, while Francisco listed $6,731 in contributions. But Morgan said his were over a shorter period because he filed to run in July at the last minute. He said he received 59 contributions from individuals and three from political action committees, compared with Francisco's 10 donations from PACs or businesses.
"I think it says a lot about my campaign that 75 percent of my contributions came from local individuals," Morgan said.
Morgan and his wife, Kathleen, loaned the campaign $10,000, while Francisco contributed $1,000 to her campaign.
Francisco leads the race for money in the bank with $19,637 compared with Morgan's $17,095, as of July 24. She said she has more in the bank than she spent in her 2004 victory, when incumbent Mark Buhler spent considerably more money on the race.
"I'm lucky that, I think, my involvement over the years has given me reasonable name recognition," Francisco said.
The district includes most of Lawrence, western Douglas County and Lecompton.
In other area races, incumbents and challengers pointed to their local donations as the key to running a successful campaign.
In the 38th District House race, Kelton pulled in more donations than incumbent Brown. But Brown, who has served two House terms, said he already had $8,400 in the bank to start, plus he has already outspent her in the race.
Kelton, an assistant economics professor at the University of Missouri-Kansas City, received many contributions from people outside the district.
Holland, who has served in the House since 2003 and is trying to unseat Pine in the Senate, said he was not concerned that Pine outraised him in the last period. He said fundraising is more about allowing individual candidates to plan their strategy to try to win votes.
"The point of the money is to basically get your message out," Holland said.
Copyright 2018 The Lawrence Journal-World. All rights reserved. This material may not be published, broadcast, rewritten or redistributed. We strive to uphold our values for every story published.