Photo Gallery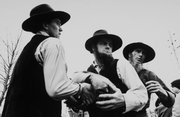 Mike Yoder portfolio pictures
People are often curious about how a person gets a job as a photojournalist. I usually suggest a well-rounded education, an interest in people and a solid portfolio of photographs.
It's the portfolio that seals the deal. Your collection of photographs demonstrates your visual talent and your unique approach to documenting the world. While methods of displaying a portfolio have advanced from leather-bound notebooks to online presentations and DVDs, creating a portfolio is done pretty much as in the past. Here are some tips.
1. Know your audience. You may be a talented fashion or nature photographer, but a portfolio of those images will not land you a newspaper job. A newspaper folio would be heavy on people photographs and contain an assortment of sports, news and features. If you want to shoot for magazines like Vogue, and Nature then your portfolio would demand appropriate images.
2. Edit tightly. We often review portfolios that have too many photographs or photographs that mirror others in the collection. A selection of 20 to 30 is plenty. Variety and versatility is important. Too many photographs can water down the overall quality. If you have any doubts about a photograph, leave it out.
Go online to see photographs from my 1983 portfolio that got me my job at the Journal-World.
Contest
I'm asking readers to submit a portfolio that our staff will review and comment on in my next column Sept. 21. If we get a nice selection of portfolios we'll pick the top two and publish them here online at LJWorld.com
Guidelines: Choose one of the following publications as your potential employer and construct a portfolio accordingly. We'll "hire" the photographer that shows versatility and variety and best matches their portfolio to the publication.
¢ Lawrence Journal-World - People, events, sports, news.
¢ Nature - Wildlife, outdoors.
¢ Rolling Stone - Musicians, live music performance.
¢ Vogue - Fashion, clothes design.
¢ National Geographic - Travel, multiple picture stories of one subject.
¢ Parenting - Family life, children.
Portfolios should be submitted by e-mail or by CD to Mike Yoder, 645 N.H., Lawrence 66044 or to myoder@ljworld.com. Deadline is Sept. 8.
Copyright 2018 The Lawrence Journal-World. All rights reserved. This material may not be published, broadcast, rewritten or redistributed. We strive to uphold our values for every story published.