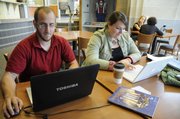 It's a sign of the times: Kansas University students are ditching traditional notebooks to take notes on laptop computers.
Instead of reading the newspaper in the library, they're using personal computers to watch live video. And soon, after a two-year project is completed, they'll be able to log on to the Internet in every academic building on campus.
Bill Myers, director of assessment and outreach for information services, said the implementation of wireless Internet, or Wi-Fi, will act as a recruiting tool for students and faculty, help retain professors and attract funding for research.
"Whether it's in the university or anywhere else, we all want ubiquitous wireless wherever we go," he said.
$2.6 million project
Wireless Internet first appeared on campus about four years ago, Myers said. Wescoe, Fraser and Strong halls were the first buildings to go wireless.
In 2006, the student senate agreed to designate $1.3 million to put wireless access points in most classrooms and laboratories. The university subsequently matched those funds.
Myers said all academic buildings were to be fitted with wireless access points by the end of July. The project will be complete by December, when miscellaneous common areas go wireless.
He praised student and university leaders for working together to integrate Wi-Fi at KU.
"The progress we've made in the last two years in expanding our coverage in the academic areas is really due to the leadership of the students and their willingness to partner with the university on this," he said.
It's no surprise that students support the move.
"I think it's a good thing. That's where everything is headed. More and more people have laptops and take notes on them," said Jenny Mohwinkle, a senior from Topeka.
Andie Grasmick, a senior from Denver, said she thinks it would be more convenient, but she said wireless zones in places like the Kansas Union and the school's libraries make for easy access.
"I'm never in a building where I'm too far away from the union," she said.
Classroom distraction?
Grasmick, a mathematics teaching assistant, does see one downside to having ubiquitous wireless Internet, however.
"I can see my students getting on the Internet and not using it for school" while they're in class, she said.
But Gregory Cushman, an assistant professor of history, doesn't see it as a big deal. After all, students can surf the Web on their phones, too.
"I can count on one hand the number of students that I've had that take notes on computers," he said. Plus, "there's nothing you can do to stop students from daydreaming anyway."
An added benefit, Cushman said, exists for graduate students who have offices, but not access to university computers. Wi-Fi allows them to "use their own computer much more easily and efficiently."
No plans for dorms
While wireless zones will exist in all academic buildings, Myers said no plans are in place to put it in dormitories or scholarship halls.
"One of the things we've looked at is whether having in the dormitory areas is a priority," he said.
Mohwinkle thinks it should be.
"A lot of people do study in the lobby (of a dorm), so I think, with the direction things are going, it's a good thing," she said.
"It all costs money, so what you do care about most is what it comes down to," Myers said.
Still, he said, the addition of a wireless campus is part of giving KU a first-class infrastructure.
"There are 30,000 reasons," one for each person on campus, he said.
Copyright 2018 The Lawrence Journal-World. All rights reserved. This material may not be published, broadcast, rewritten or redistributed. We strive to uphold our values for every story published.