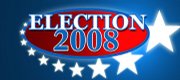 In-depth coverage of the candidates and the issues, all leading up to the Aug. 5 primary and the Nov. 4 general election.
Topeka — One-third of this year's election contests for 165 legislative seats have already been settled.
Candidates in 50 of the 125 Kansas House districts have no opponents for the Nov. 4 general election. The same is true in six of 40 Senate districts.
Republicans already have won 28 House seats and four Senate seats. Democrats already have won 22 House seats and two Senate seats.
Top legislative leaders are on the list as they seek re-election. They include Senate President Steve Morris, a Hugoton Republican; Senate Majority Leader Derek Schmidt, an Independence Republican; House Speaker Melvin Neufeld, an Ingalls Republican; and House Minority Leader Dennis McKinney, a Greensburg Democrat.
There are fewer uncontested races this year than in 2004, the last time both House and Senate seats were on the ballot. That year, there were no contested general election races in eight Senate districts and 57 House districts.
Copyright 2018 The Lawrence Journal-World. All rights reserved. This material may not be published, broadcast, rewritten or redistributed. We strive to uphold our values for every story published.