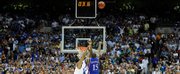 The Lawrence Journal-World looks back at the men's basketball season of 2007-2008, in which the Jayhawks claimed the NCAA championship title for the first time in 20 years and its third ever.
Bill Self was truly heartened by the response to Kansas University's first national basketball championship since 1988.
"Overwhelming ... cool ... humbling," KU's sixth-year coach exclaimed of Jayhawk Nation's celebrating after a 75-68 overtime victory over Memphis on April 8 at San Antonio's Alamodome.
Self treasured in order ...
¢ A rally at Memorial Stadium before 25,000 fans just hours after KU's historic win - one in which the Jayhawks overcame a nine-point deficit in the last 2:12.
¢ An April 13 parade before a throng of almost 100,000 in downtown Lawrence.
¢ A May 2 reception at the Capitol in Topeka in which legislators and onlookers capped the proceedings by chanting, "Rock Chalk Jayhawk."
¢ A June 3 trip to the White House and 45-minute meeting with President Bush in the Rose Garden.
¢ A June 7 Basketball Boogie at Kansas Speedway in which more than 1,000 fans crammed the dance floor for the two-month anniversary of the hoops title.
Yes, the celebrating sure was dandy, but, "It's over," Self said emphatically. "It is time to move forward. I mean, we've been patted on the back a lot. We've got to get to work and make sure we put a great team on the floor again next year."
Self isn't promising another title come April 2009 - that'd be silly considering he loses all five starters from last year's 37-3 team. He's not discounting some fun times in the fieldhouse again in 2008-09, however.
"With the number of guys we lost, we've got to get the young guys to step up and play like men maybe a little before they are ready to," Self said. "It'll be fun, challenging. We may not be great early, but I'd be disappointed if we're not at the end, when it counts the most."
KU - for the record - lost senior rotation players Russell Robinson, Darnell Jackson, Sasha Kaun and Rodrick Stewart, as well as Jeremy Case.
The Jayhawks also lost three early-entrants to the NBA.
Junior Brandon Rush and sophomore Darrell Arthur were chosen No. 13 and 27 of the first round in the draft, while junior Mario Chalmers was taken at No. 4 in the Second Round. Walk-on Brad Witherspoon also left the program to concentrate on school, meaning nine members of the title team are long gone.
Self brought in a whopping seven new recruits - more on them later. They join four returning scholarship players, including sophomore center Cole Aldrich and junior guard Sherron Collins.
Aldrich was one of the heroes of KU's Final Four semifinal victory over North Carolina, in which he made life miserable on national player of the year Tyler Hansbrough. Collins was huge in the Jayhawks' national title victory over Memphis.
"Cole and Sherron are great pieces to start with," Self said. "Sherron is as talented as a point guard as there is, and Cole is as talented a big guy as there is."
Collins averaged 9.3 points with 105 assists versus 68 turnovers last season.
"Sherron and I talk all the time. He knows what I expect. I think he is real comfortable with that," Self said of the 5-foot-11 Chicago native. "There will be a lot of responsibilities put on his shoulders."
Aldrich, who learned a lot in practice going against the likes of Arthur, Kaun and Jackson every day, averaged 2.8 points and 3.0 boards (with 38 blocked shots) while logging 8.3 minutes a game in 40 games.
"Cole was good. He was player of the game for a stretch," Self said of the Bloomington, Minn., big man's effort versus the Tar Heels. "I do think he'll be one of the better true big guys to play here in a long time."
Self especially liked the fact the 6-foot-11 McDonald's All-American was willing to step back and play limited minutes his rookie season.
"We talked to Cole about this. When we made the decision to start Darnell and bring Sasha off the bench, Cole's minutes would go down," Self said. "We rarely could play Cole and Sasha together.
"His attitude was fabulous. Him playing 10 minutes a game ... it didn't matter. After the Carolina game you could add all the minutes in the world and they don't add in comparison to how important he was in that game. We were a better team when he was in the game."
KU's only other returning scholarship players are sophomore guards Brady Morningstar and Tyrel Reed. Morningstar red-shirted, that is practiced but did not play in games a year ago. Reed, who battled some ankle problems most of the season, averaged 2.0 points in 23 games. Reed totaled 21 assists to just four turnovers.
"Tyrel and Brady have to step up and be counted. They have not had a chance yet. I think they can be a part of the rotation. Hopefully Conner can play as well," Self said of three-point bomber Conner Teahan.
The sophomore walk-on out of Kansas City Rockhurst scored 46 points in just 64 minutes played. He made 12 of 20 three-pointers for 60 percent shooting.
Also back are walk-on guards Chase Buford (soph) and Brennan Bechard (senior) as well as senior big man walk-on Matt Kleinmann.
The rest of the roster consists of two junior college additions (Tyrone Appleton, Mario Little), two prep school players (Marcus and Markieff Morris) and three high schoolers (Tyshawn Taylor, Travis Releford and Quintrell Thomas).
Little, a 6-5 guard from Chipola (Fla.) Community College, averaged 15.2 points, 5.5 rebounds and 2.6 assists per game last season in living up to his billing as Rivals.com's No. 1 rated juco player nationally. He hit 55 percent of his shots, including 40.3 percent of his three-pointers.
"Mario could be the best juco player in the country. He's tough, will give us a physical presence," Self said of the first-team juco All-American originally from Chicago.
Appleton, 6-3 out of Midland (Texas) CC, averaged 13.2 points per game off 46 percent shooting last season with 5.2 assists and 1.7 steals per game. The Gary, Ind., native was Rivals.com's No. 3-rated juco player nationally after being tapped MVP of the Western Junior College Athletic Conference and second-team juco All-American.
"Tyrone is a do-everything guard," Self said. "He's a good shooter. He's a good handler. He can play the one (guard) or the two (guard). He will fit in well with the way we play with our interchangeable parts on the perimeter.
"Tyrone has won big at the junior college level and certainly has sacrificed individual stats for the betterment of his team. We were sold on Tyrone when we first came in contact with him. He's going to be a terrific addition to a young basketball team from a talent standpoint, but most importantly from a leadership standpoint," Self added.
Marcus Morris, a 6-81â2 forward, and Markieff, a 6-10 forward/center, out of Philadelphia's Prep Charter High and APEX Academies prep school, enter as Rivals.com's 29 and 50 rated players nationally.
Marcus averaged 27 points and 12 rebounds his senior year at Prep Charter, while the 6-10, 230-pound Markieff chipped in 23 points and 15 boards.
The duo moved on to the prep school in Pennsauken, N.J., where Markieff averaged 27.2 points and 12 boards and Marcus 24 points and eight rebounds.
"We feel Marcus and Markieff are two of the most underrated players in the country," Self said. "From a pure talent standpoint, the twins are the most talented we've signed (at KU) so far. I think they are big-time players if their mind is right and they have a great work ethic.
"Marcus is a do-everything guy. He can post. He can play point. He's one of the most versatile guys we've recruited since we've been here. He's kind of like Julian (Wright) in some ways.
"Markieff is a prototypical 6-10 power forward who can also play the pivot. He's a good shooter and passer. He can play with a small guy next to him or bigger guy next to him, which makes him unique."
Then there are two New Jersey newcomers, who were rivals in high school.
Thomas, a 6-8 power forward from St. Patrick High in Elizabeth, N.J., and Taylor, 6-3 out of St. Anthony High in Jersey City, enter as Rivals.com's No. 150 and 77 rated players, respectively.
Thomas averaged 14.7 points and 8.5 boards, while Taylor, who originally signed with Marquette, opting out when coach Tom Crean left for Indiana, averaged 10.0 points and 5.0 assists a game.
"We were very fortunate to land him late because of the coaching change," Self said of Taylor, adding, "I think it (KU) is a great fit. He has a chance to be terrific. He certainly will be young, but we think he's a terrific prospect."
Of Thomas, Self said: "I think Quintrell will be the sleeper of the group. His offensive game is one that is expanding. He will give us an element of toughness, and his defensive rebounding will be something we look to early in his career. He's a great runner, jumper. He really reminds me of Darnell when he first got here."
There's local flavor to the recruiting class in Releford, a 6-5 guard out of Roeland Park Bishop Miege who averaged 24.1 points, 6.0 rebounds and 4.0 assists his senior season.
"I think Travis will surprise people. I think he's already a college defender," Self said of the No. 70-rated player in the country.
Of the young team, Self said: "I think it'll be like it was a couple years ago when Julian (Wright), Mario and Brandon were all freshmen.
"When the sky was falling with KU basketball when we lost to Bucknell and Wayne (Simien) and Aaron (Miles) and Mike (Lee) were all leaving and we had the off-the-court incident (with J.R. Giddens) and had your five key guys basically all leaving and wondering, 'Are we gonna win a game?'
"At the beginning of the year we didn't win many. Julian, Mario and Brandon went on and tied Texas for the league and we went 25-8. I feel the same way about this group except we have two better players returning than that team had. I am very confident we'll be very, very good. We need to stay hungry, humble, understand why we had some success."
Copyright 2017 The Lawrence Journal-World. All rights reserved. This material may not be published, broadcast, rewritten or redistributed. We strive to uphold our values for every story published.