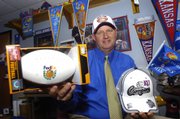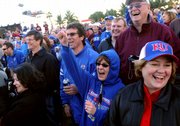 KU wins lawsuit
If a stellar year in licensing sales wasn't enough, a federal jury in July gave Kansas University officials another reason to celebrate on the trademark front.
The jury found that Joe-College.com, which has sold such T-shirts as "Muck Fizzou" and "Our Coach Can Eat Your Coach," has infringed on KU's trademark.Joe-College, which operates a storefront at 734 Mass. in addition to its Web site, was ordered to pay $127,337 in profits and royalties and stop selling about 50 T-shirts deemed to infringe on the university's trademark.
But both sides claimed victory in the case.
Jim Marchiony, associate athletic director at KU, said the athletics department was pleased the jury agreed that KU's rights had been violated.
Meanwhile, Jim Tilly, attorney for Joe-College owner Larry Sinks, said the jury had determined (that the vast majority of these (T-shirts) were not associated with the university."
Tilly also said Joe-College would be able to remain in business.
So you bought your Todd Reesing jersey and Orange Bowl T-shirt during the college football season. Maybe you added a Big 12 and national champions T-shirt in the spring. Heck, throw in a poster, a commemorative book, maybe even a souvenir mouse pad.
Even if you haven't purchased a thing celebrating Kansas University's landmark athletic year, countless KU fans have.
With KU's football and men's basketball teams dominating the national spotlight last year, ripple effects are being felt throughout the university.
To wit: Endowment gifts are on the rise; freshman applications are up almost 10 percent; the university's income from licensing is expected to be a record high.
And KU's reputation as a winner, athletically at least, is solidified. The football team is ranked 17th in preseason rankings, while the Jayhawk basketball team, well, it's still No. 1, at least until new rankings are released in the fall.
But no matter how KU's teams fare next season, the university is already reaping the benefits of its athletes' accomplishments.
Alumni gifts increased
Dale Seuferling, president of the Kansas University Endowment Association, said endowment gifts are 5 percent ahead of last year's pace.
"There's a great sense of pride and feeling about the university, and that can certainly contribute to people making a decision on a major gift at a later date," he said.
KU's athletic prowess is creating a buzz among alumni with whom endowment staff speak.
"The conversations are much longer, and there is a lot more excitement and interest when they reach alumni, whether it's here in Kansas or across the country," Seuferling said.
While he couldn't say exactly how much the Endowment Association has raised, Seuferling said the 5 percent increase is remarkable, given current economic strains.
"This is running counter to (the economy), so we think certainly some of the good things that are happening at the university are contributing to keeping this on the positive side."
New apparel boom?
Minutes after the Jayhawks dispatched Davidson in the NCAA basketball tournament's Elite Eight round, local vendors were already hawking Final Four T-shirts emblazoned with KU logos.
A quick look at the KU Bookstore's Web site shows everything from books, coffee mugs and even car mats celebrating the basketball team's national championship.
It's that type of product boom that's keeping the Jayhawk a profitable figure.
Jim Marchiony, associate athletic director, said exact figures for the money generated by officially licensed products won't be available until the Collegiate Licensing Company issues a report, but he expects to see a marked increase in profits.
"There has been a tremendous amount of purchasing activity, so we would envision that the licensing revenue that we accrue this year will definitely show an increase from last year and the year before," he said.
Paul Vander Tuig, trademark licensing director for the university, said he expects the school's revenues to be close to $2 million, a significant increase from the $1.2 million earned last year.
He is hopeful that KU's potency on the basketball court is beneficial to the Collegiate Licensing Corporation, as well.
"In terms of a national championship in basketball, there's a possibility that ...(KU) may be the best national champions in terms of sales ever by any school that they've represented," he said.
Scott Bouyack, vice president of apparel marketing for Collegiate Licensing Corporation, said the numbers were approaching record sales.
"Obviously, athletic success drives an awful lot of business, and that has certainly been the case here with KU," he said.
Vander Tuig said he has been preparing for a year like 2007-2008 for 15 years. But a series of failures, flame-outs and missed foul shots kept him from being able to sign off on new KU apparel trumpeting a national championship or bowl win.
"In my mind there's always optimism," he said. "I never once went into an NCAA tournament thinking 'I'm not going to approve any Final Four'" merchandise. This year, he did. And he's stayed busy approving new items.
"There seems to be a continued emphasis on youth apparel. There's more of an emphasis on tailgating apparel," he said.
Applications up
Lost in the shuffle is how athletics affect academics, namely enrollment and recruiting.
The verdict: It's too early to tell. In fact, it might be impossible to connect the rise in applications from both in-state and out-of-state students to KU's constant presence on sports highlight reels.
"Overall, we have seen an increase of interest in the University of Kansas, in terms of students wanting more information and visits to campus," said Lisa Kress, admissions director.
In-state freshman applications were up 6 percent, compared to a 9 percent hike for out-of-state applications.
"That's definitely significant, but there are more factors than just athletics to take into consideration," Kress said, such as a larger class of high school seniors nationwide.
Enrollment for the upcoming year won't be measured until after the 20th day of classes, and admissions staff members are working through the summer to see how it can incorporate KU's on-the-field success into its recruiting.
"We are hoping that that interest continues for the seniors coming up," she said.
The students Kress has talked to like what they hear about KU, and a lot of the feedback has nothing to do with sports.
"They're very excited in general about what the university can offer them," she said, referring to points such as KU's study abroad program.
Kress said enrollment increased following the 1988 championship season, but couldn't say if athletics played a factor in that.
Copyright 2017 The Lawrence Journal-World. All rights reserved. This material may not be published, broadcast, rewritten or redistributed. We strive to uphold our values for every story published.