Audio Slideshow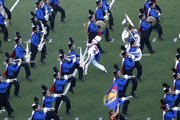 KU Marching Band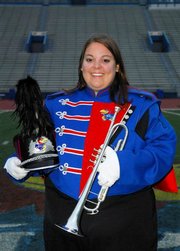 The crowd thundered in the distance. There was a dark tunnel, then a field flooded with light.
It was Melissa Harmon's first game day as a freshman in the Kansas University Marching Band, and thousands of eyes were turned in her direction.
"I was very nervous. It's scary to run down the stairs because you're afraid that a fan might step in front of you or you might trip," said Harmon, who is now a senior and can look back at that time with a sense of humor.
David Clemmer, director of athletic bands, said a case of jitters during the first game comes with the territory.
"It can be exhilarating for the freshmen," he said. "Everyone's pretty wide-eyed. The first thing through those tunnels and you see 50,000 people. : There's some that don't play right away. But they get over it."
Harmon agrees.
"I'm generally not nervous now," she said. "I tune people out when I don't want to mess up."
Not that that's likely to happen. Harmon, who started playing the trumpet in the sixth grade, is now a section leader. Her duties include helping her fellow musicians with the fundamentals of marching, drills and memorization. But it doesn't stop there.
"Melissa works over and beyond what's expected of her," Clemmer said. "She's always volunteering and is really involved behind the scenes, whether that means transporting students between games or making sure the equipment is there and ready for her section."
A long day
A typical home game day for the KU Marching Band can begin as early as 7 a.m. There's a morning rehearsal followed by a break and then a warmup at Wescoe Hall. The band then marches down Campanile Hill and plays a small concert before continuing to march the remainder of the hill.
Then there's the Hog Calling. Before each game, the band gathers together to perform the song "When It's Hog Calling Time in Nebraska," a long-standing ritual that helps fans as well as band members get pumped up for the game.
"We then go to our tunnels (at Memorial Stadium) and 20 minutes before game time, run down the stairs and onto the field," said Harmon, who said she thinks this moment is the best part of what can be a long and exciting day. "By the end of the game we are all very exhausted from marching pre-game, half time and playing throughout the whole game."
"For me, the first games of the season are always the best," Harmon said. "There's a lot of adrenaline pumping through the fans and the players."
And it's a reciprocal relationship. The crowds and the team feed off the energy of the band as much as the band gets inspiration from them.
"Our main objective is to rally the troops, whether we're ahead by 50 or down by 50," Clemmer said.
Harmon agreed.
"The band's always there, win or lose," she said. "Sometimes I think we're most important when things are down and we're there to boost morale."
Looking to the future
As Harmon looks toward graduation in the spring of 2009 with a degree in applied behavioral science, she is unsure how long her trumpet playing will continue. But one thing is for certain: She will cherish her experiences in the marching band for a long time to come.
"My most memorable experience is the Orange Bowl," she said. "Being in Miami was amazing. Even though the weather stunk, we were all very pumped and excited because of how well we did."
Reflecting on the whole of her experiences, Melissa acknowledges that KU Marching Band will be more than just a memorable time in her life.
"Marching teaches discipline and management, and I'm pretty sure that will carry through in whatever I do," she said.
Copyright 2018 The Lawrence Journal-World. All rights reserved. This material may not be published, broadcast, rewritten or redistributed. We strive to uphold our values for every story published.