Photo Gallery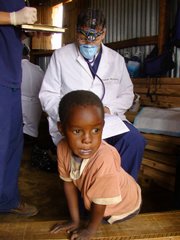 Healing Touch
Even after four trips to Kenya, the realities don't get any easier for Dr. Steve Segebrecht.
"It certainly is emotional to tell a 7-year-old and her mother the child is HIV-positive," the Lawrence resident says.
Emotional, and difficult - but also important.
Segebrecht is medical director for Comfort the Children International, an organization that provides medical, educational and community development support for the Rift Valley region of Kenya.
CTC, as it is known, was founded in 2003 by Zane Wilemon, a Kansas University graduate now living in San Jose, Calif. The organization, a donations-based nonprofit, increasingly is relying on volunteers from Kansas - and especially Lawrence - to do its work.
Segebrecht, an ear, nose and throat specialist, spent 20 days in Kenya during July. The 19-member medical team included several Lawrence medical professionals, including Pat Parker, pharmacy director at Lawrence Memorial Hospital, and Dr. Jeffrey Armstrong of Lawrence Oral Surgery, as well as others with Lawrence and KU ties.
But while the team treated many of the skin sores and eye irritations that are common in Kenya, this year's trip had a new focus: testing for HIV and AIDS.
Tough testing
In a country where 5 percent of the adult population is living with HIV or AIDS, testing can be difficult. Segebrecht says statistics show 83 percent of adults infected with HIV don't know they have the virus.
"There's a real reluctance for people to be tested," he says. "There is a stigma attached to it. For them, it's better just not to know."
That's why the temporary medical clinic set up by the CTC team made things easier.
Usually, the local residents of Maai Mahiu, which has a population of about 25,000, have to walk to a clinic specifically designed to test for HIV. The CTC clinic gives the locals an opportunity to be treated for a wide range of ailments - and also get tested for HIV while they're there.
The result was 120 people got tested at the clinic, with about 20 of them coming up HIV positive.
Those statistics are important as CTC officials plan to expand HIV testing in the area.
"This is the first time anyone had done stats like this," says Wilemon, the organization's founder.
While some statistics show HIV and AIDS rates have dropped in Kenya, Wilemon says it's difficult to say for sure.
"It's kind of stayed the same - if anything it's minor improvements and minor discouragements year to year," he says.
Kansas connection
The role Kansans and Lawrence residents is playing with the organization is increasing over time, Wilemon says.
"It's huge," he says.
This summer, one team included Barrie Arachtingi, director of Christian Psychological Services in Lawrence. She led several women's support groups in Kenya, covering topics such as depression, post-traumatic stress and parenting skills.
Another team included Bill Hargrove, a Kansas State University professor, who worked with locals on agricultural development.
Additionally, KU architecture students have provided preliminary designs for a new community center in Maai Mahiu, which is about an hour from the capital of Nairobi. Wilemon says his organization is attempting to raise about $1 million by the end of 2009 for the first phase of the project.
And then, of course, there's the role Segebrecht and others on the medical side have played.
"He keeps his hand on the Kenyan pulse, and he goes above and beyond," Wilemon says of Segebrecht. "They are the rare individuals who take that back and share it with others, and keep that fire and fan it. Steve is just a catalyst for CTC."
That's exactly what happened this summer when Segebrecht invited Parker, the LMH pharmacist, to accompany the team to Kenya. It was the first time a CTC team had a pharmacist along.
Now, Parker says, he's excited to go back.
"This was a first-time experience for me," Parker says. "It was a little shocking, frankly. I was taken aback by the disparity in the haves and the have-nots.
"When you go over there, you think you're going to do something huge. But really, you're not doing anything huge. You're doing important little things that mean a lot."
Copyright 2018 The Lawrence Journal-World. All rights reserved. This material may not be published, broadcast, rewritten or redistributed. We strive to uphold our values for every story published.