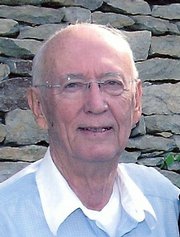 Just one day before the Eudora school board passed a resolution honoring him for his work to improve their schools, Dr. Leo Lauber, 82, died of cancer at Medicalodges, Eudora.
Lauber, who played an integral part in the development and improvement of the community, moved to Eudora in 1959 with his wife, Jean, who also was known as Dusty.
The father of six served on the Eudora City Council, Eudora Planning Commission, Eudora school board, the ECO2 Commission of Douglas County and the Lawrence-Douglas Planning Commission. He was the former president of the Lions Club, and was a member of MENSA. He was a veteran of World War II.
Lauber was a chiropractor by trade, but also was a successful entrepreneur. He founded the Orthopedic Casting Laboratory, which was Eudora's largest private employer during the late 1970s, and M-PACT Worldwide, which produced medical supplies.
Eudora Mayor Tom Pyle, who moved to Eudora about the same time as Lauber, said everything Lauber did in Eudora was for the betterment of the community.
Pyle said there is no better example than when Lauber built the Intech Business Park in 1986.
"He didn't build Intech with the idea to get rich; he did it with the idea that Eudora needed it," Pyle said.
For school Superintendent Don Grosdidier, Lauber's death on Wednesday was difficult because Grosdidier's family lived on a lot that neighbored Lauber's.
"I had a real personal connection to Doc on top of the professional connection, and you just can't replace somebody like him," Grosdidier said.
For several weeks, the school board had planned to honor Lauber on Thursday for his tireless support of the district. Lauber, who had served on the school board in the early 1960s, vigorously supported each of the district's bond issue campaigns. Grosdidier said Lauber never lost sight of the fact that the quality of life for families in Eudora depended heavily on the quality of Eudora's schools.
"I'm going to miss him because he was just really a special person, and most people will never meet a man like him," Pyle said.
Copyright 2017 The Lawrence Journal-World. All rights reserved. This material may not be published, broadcast, rewritten or redistributed. We strive to uphold our values for every story published.