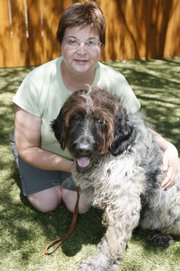 Wichita — Leroy, a wire-haired pointing griffon and therapy dog extraordinaire, has a new accomplishment to brag about. He has become the star of his very own children's book: "Leroy the Ugly Dog."
Regardless of the book's title, many would say that Leroy is one beautiful animal. As a therapy dog, he visits patients at the Catholic Care Center and spends time with the children at the Wichita Children's Home.
Janice Ronald, a behavioral dog trainer and Leroy's owner, wrote the tale based on her personal experiences with therapy dogs.
Owning and working at the Family Dog Training and Behavioral Center in Valley Center has provided Ronald with plenty of memories to draw from, she said.
"I was inspired to write the book because there are so many great stories about the relationships people have with their dogs," she said.
With the help of color illustrations, "Leroy the Ugly Dog" tells the story of a little girl who sees the beauty of Leroy's unconditional love, not the ugliness of his outward appearance.
The moral of this timeless story is simple: Beauty is only fur deep.
After writing her story, Ronald's sons, Matthew, 26, and Jesse, 24, encouraged her to send it to a publishing company.
"My sons thought the story was cute and that I ought to share it," she said. "We figured there was no hurt in sending if off."
To Ronald's surprise, Tate Publishing, a publishing company in Oklahoma, turned "Leroy the Ugly Dog" into her first published work.
"It's been very fun," she said. "Fun promoting the book and using it as a springboard into discussing the different jobs dogs can do for people."
Ronald said she plans to continue writing stories about therapy dogs and their impact on humans.
"I have a compilation of different meaningful events people have had with their dogs when they have taken them on therapy visits," she said. "I want to create a book that shares several of these short stories."
Copyright 2018 The Lawrence Journal-World. All rights reserved. This material may not be published, broadcast, rewritten or redistributed. We strive to uphold our values for every story published.