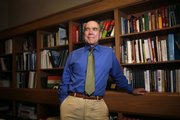 With a background in business and academics, Richard Lariviere, Kansas University provost, has stepped into his leadership role with ease, constantly thinking about how to move KU forward.
His move to Lawrence and KU came just two years ago from Austin, Texas, where he served as dean for the University of Texas.
He and his wife, Janice, associate director for teacher development in the KU College of Liberal Arts and Sciences' Center for Science Education, have found Lawrence to be "charming."
"We really like Lawrence," he said. "It's a great place. It's manageable in terms of size and traffic. It's extremely friendly and comfortable - it's really comfortable."
But the university is where Lariviere especially feels "at home."
"I'm pretty convinced that people in the state of Kansas don't understand what a remarkable treasure they have with this place," he said. "It's terrific because of the quality of the faculty."
'Strategic thinker'
The relationships Lariviere has formed with professors, deans and others seem to generate not only a mutual respect, but a dialogue and creativity throughout the university.
Danny Anderson, vice provost, said Lariviere is fun to watch in action because he's so skilled at working with others and keeping the big picture in mind.
"Richard is a strategic thinker," he said. "He walks in wanting to get people to bring ideas to the table so that creativity can happen. He really is a big supporter of people exploring ideas of how to approach a situation, an issue, a problem."
All of the solutions are geared toward keeping KU a top-notch university in the state and the country.
A behind-the-scenes glance at the provost's office reveals a basic change that makes a big difference.
While he works closely with faculty, Lariviere has made it a point to leave as much of the decision-making up to the school deans as possible.
"My own approach to academic administration is the people who have responsibility should also be given the authority, so I've been trying to push as much of the decision-making process for the college and schools onto the deans' desks as I can. Too much centralization in terms of control over budgets and other things results in institutions not being as nimble as they need to be to respond to student needs. Those decisions really need to lie in the hands of the deans, and we really have a good set of deans."
Lariviere is also an advocate for strengthening the undergraduate program alongside the graduate and research areas of the university.
Sharing equal strengths in those areas is a rarity, Lariviere said, and one he had to adjust to at first.
"I've had to pretty dramatically change my rhetoric about teaching when I came here because the norm in bigger research universities is to try to keep the faculty aware of and pay attention to undergraduate education," he said. "The natural tendency is to primarily focus on graduate studies, and that wasn't necessary here to have that constant rhetoric to remind people to be very, very conscious of that. It really shows in the undergraduate programs (at KU)."
Several long-term projects have been under way since Lariviere got settled on top of the hill.
"I think that Richard Lariviere has brought a substantial number of changes with him," said Joseph Heppert, chairman of the chemistry department. "Many changes seem to be moving the institution forward in critical areas."
Lariviere speaks proudly of the Tuition Compact Plan, which he considers revolutionary.
"As far as we know there aren't any other universities in the country that have a program quite like this one," he said. "And I'm very pleased with it because it provides predictability in terms of cost to families and students, and that's a really hard thing to do."
Another difficult task on his list is to use existing tools to reform the admission process.
Currently it's too easy for students who aren't ready for a college career at KU to be admitted, he said.
In the end, Lariviere is thinking about what's sensible for the student, or the family who may be funding college and the university.
He wants to increase the number of four-year graduation rates and the freshman-to-sophomore retention rate, he said.
For example, the 82 percent freshman-to-sophomore retention rate is 10 percent lower than he'd like it to be, and it's tied to admissions, he said.
He said the Kansas Board of Regents is "looking into the admissions issue."
"We'll see what they have to say," he said.
In April, he also started a group called the Latino Vision Council to help serve the state's growing Hispanic population.
"If you look at the demography in the state of Kansas, the only segment of the school-going-aged population that's growing in a significant way, growing at all, is the Hispanic population," he said.
"These are subsets of the population of Kansas that are not being adequately served by higher education in general, so we have a lot of work to do there," he said.
Lariviere invited leaders from Hispanic communities across the state, including Wichita, Liberal and Garden City, to join the council. They've met twice so far.
"It's a long-term process," he said. "It's not something you do in a year, you've conquered and you move on. But KU is really committed to addressing this issue. Diversity is really important at KU. We are nowhere near as diverse either in the student body of faculty and staff as we need to be.
"This is a great example of bringing together not just university resources but also community resources to work together to recruit Latino students into college," said Santos Nunez Galicia, program director of the Multicultural Resource Center. "I think this can only bring good things to KU."
Other policies and efforts in terms of diversity go beyond the Latino Vision Council. Lariviere said he's always made it a point since his time as a dean to his current position to hire a diverse staff to attract a diverse student body.
He created a special opportunities fund specifically to hire diverse staff.
"I know a lot about that; this was a really high priority at Texas when I was there, and I still think it's the case I probably hired more faculty of color as dean in the history of the place," he said.
As Lariviere contemplates his next move, big or small on Jayhawk Boulevard, he still seems in awe of what the institution offers at all levels.
"This place is really contributing mightily to the welfare of the state and the whole nation, and you wouldn't know if you stopped the average man on the street and asked, 'Tell me about KU.' They would say basketball is pretty good, which it is, by the way. This is a really special place."
Copyright 2018 The Lawrence Journal-World. All rights reserved. This material may not be published, broadcast, rewritten or redistributed. We strive to uphold our values for every story published.