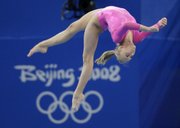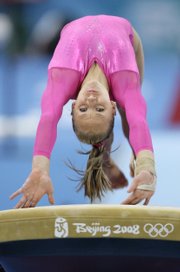 Beijing — No runner-up finish to her friend and rival this time. Nastia Liukin won the biggest prize of all.
Liukin edged teammate Shawn Johnson for the all-around gold in women's gymnastics today in an intense matchup that lived up to its billing at the Beijing Games. Liukin finished with 63.325 points, a mere six-tenths ahead of Johnson, the reigning world champion who beat Liukin at the U.S. championships and Olympic trials only a few weeks ago.
Yang Yilin of China won the bronze.
Liukin paced back and forth as Johnson competed on floor, the final competitor of the day, clapping as her teammate floated high in the air. In the end, it was Liukin who soared. When Johnson's score was posted and Liukin saw she was the winner, tears filled her eyes. Her father and coach Valeri grabbed her in a bearhug, squeezing her tight for several minutes.
Valeri Liukin was a double gold medalist for the Soviet Union 20 years ago, but came up achingly short in a rivalry with his own teammate in the all-around.
There would be no such disappointment for his only child.
"It's not possible to describe how proud I am," Valeri Liukin said afterward. "It's just an amazing feeling."
Liukin blinked back tears with a smile when she was introduced as the gold medalist, pride etched on her face.
For China, it was the first disappointment on the gymnastics floor. The Chinese won both the men's and women's team titles, and Yang Wei ran away with the men's all-around gold on Thursday.
But this was no surprise. Johnson and Liukin have been the world's two best gymnasts for two years now, and most expected the teammates would be each other's biggest competition. Johnson came in with all the momentum, winning every matchup with Liukin but one in the last few years.
Swimming
Look out, Mark Spitz. Get the check ready, Speedo. Michael Phelps is closing in - quickly, of course.
Phelps made it 6-for-6 in winning gold medals, and in setting world records, by taking the 200-meter individual medley today. If he wins either of his last two races, he'll join Spitz as the only Olympians to win seven golds at one Summer Games and cash a $1 million bonus from his sponsor.
Win 'em both and Phelps will stand alone as the greatest Olympic champ for both a single games and for his career. This was his 12th gold, pulling him farther from Spitz and three others with nine. At only 23, he could end up doubling the long-standing career mark at London in 2012. Who would bet against him after this week?
He led this race from the start, a half-second under the world record by the first turn. Hungary's Laszo Cseh kept the pressure on over the next two half-laps, but there was no stopping Phelps when he took off on the final leg, the freestyle.
He was soon up by a body-length and the only question was who would take second. Cseh held off American Ryan Lochte by 0.01, giving the Hungarian three runners-up to Phelps at these games.
Lochte might've been gassed because a half-hour earlier he set a world record in winning the 200 backstroke. Teammate Aaron Peirsol was second. Peirsol and Lochte had shared the world record.
Rebecca Soni took the women's version, also in a world-record time. Soni added gold to the silver she won in the 100. Natalie Coughlin won the bronze in the 100 freestyle.
Phelps was back in the pool before the session ended, qualifying second fastest for the 100-meter butterfly final Saturday. His final event is the 400 medley relay Sunday.
Track and field
American Tyson Gay, world record-holder Usain Bolt and previous world record-holder Asafa Powell all easily made it through the first round of the 100 meters. This was the first time Gay raced since injuring his left hamstring at the Olympic trials about six weeks ago. The quarterfinals were set for this evening, with the final Saturday night.
"I felt a little sluggish the first round, but my body is woke up now," Gay said.
Tennis
So much for a men's final between Federer and Rafael Nadal. Or the Williams sisters meeting in the women's final.
Blake, had won only a single set in his previous eight matches with Federer, knocked him out 6-4, 7-6 (2). Blake is the only American left in men's singles.
"If you play him enough times, he's bound to have an off day," Blake said.
Federer leaves with his third straight Olympic disappointment. He also goes away knowing his 4 1/2-year reign as the world No. 1 will end next week, replaced by Spain's Rafael Nadal.
Serena Williams overcame two match points, but ultimately lost to Dementieva 3-6, 6-4, 6-3. Li beat Venus Williams 7-5, 7-5.
Top-seeded Mike and Bob Bryan advanced to the semifinals in doubles by beating Lleyton Hewitt and Chris Guccione of Australia 6-4, 6-3.
Men's basketball
The redemption the U.S. men's team is seeking won't come until gold medals are hanging around their necks. Still, beating Greece felt darn good.
Mixing passion with unmatchable athleticism, the Americans went up by 19 points before halftime on the way to an easy victory. Kobe Bryant and Chris Bosh each scored 18 points, Dwyane Wade had 17 and LeBron James 13.
Rockets star Yao Ming scored 30 points to lead China past Angola 85-68 for the hosts' first win of the tournament, and Lakers center Pau Gasol scored 13 in Spain's 72-59 victory over Dirk Nowitzki and Germany. Nowitzki was held to 11 points by a defense designed to shut him down.
Bucks center Andrew Bogut was less of a factor for Australia, but they still beat Iran 106-68 behind 24 points from Brad Newley. Also, Rimantas Kaukenas scored 20 points to lead Lithuania past Russia 86-79, and Argentina beat Croatia 77-53.
Softball
After posting shutouts and no-hitters in its first two games, the Americans faced their first deficit since the gold-medal game in 2000. And it took some weird circumstances.
The Canadians scored a run without a hit when an umpire ruled that pitcher Monica Abbott made three illegal pitches; her violation was losing contact with the pitching rubber. One of the illegal pitch do-overs led to an error by center fielder Caitlin Lowe, her first in 123 games since joining the U.S. team in 2005. Before that, she went 237 games without a miscue during four perfect years in the field as an All-American at Arizona.
The game was postponed in the fourth inning because of the rain, and the teams will resume play Friday following the U.S.-Japan game, which begins at noon. Canada will play China at 9:30 a.m., and then will have to wait around to play the Americans, who have won 16 straight at the Olympics and are seeking their fourth gold medal in softball's last swing in the games until at least 2016.
"We don't want anyone pushing the panic button," coach Mike Candrea said. "This is a very good team. We've been talking about playing with our backs against the wall. This will be a good test for us."
Baseball
Stephen Strasburg of San Diego State took a no-hitter into the seventh inning, Matt LaPorta hit a three-run homer and Matt Brown added a solo shot as the Americans bounced back from losing their opener by beating the Netherlands 7-0.
The game was called off after eight innings following a second rain delay. The Dutch protested the decision because they had loaded the bases with none out in the ninth inning, but it was denied by baseball's international federation.
Cuba beat Canada 7-6 and Japan beat Taiwan 6-1.
Fencing
The Three Musketeers of the U.S. women's saber team weren't so good as a team. After sweeping the individual medals, Mariel Zagunis, Sada Jacobson and Becca Ward settled for bronze after a surprising loss in the semifinals. They were knocked off by Ukraine, which went on to win gold.
"It's just hard coming off the individual competition. You fence so hard, and you only have so many days later," Zagunis said. "I'm not looking for excuses, but we weren't fencing up to our potential."
Wrestling
Remember Rulon Gardner's glorious victory in Sydney? Good, because there won't be one like it this time.
Adam Wheeler unexpectedly won bronze at 96 kilograms, but that was it as Dremiel Byers and Brad Vering, Americans' top Greco-Roman wrestlers, were bounced.
Golds went to Cuba's Mijain Lopez in the 120-kilogram division, Aslanbek Khushtov in 96 kg and Italy's Andrea Minguzzi in 84 kg.
Boxing
China, which has never won a gold medal in a sport long banned by Mao, has seven boxers left in the tournament. So does Russia, which produced three champions and eight medals at last year's world championships.
Russia's disappointment, and China's elation, came together in a light heavyweight bout, with Zhang Xiaoping upsetting Artur Beterbiev 8-2.
Chinese welterweight Hanati Silamu also beat overmatched Joseph Mulema of Cameroon 9-4 to advance within one victory of a medal. Cuban welterweight Carlos Banteaux avenged a loss earlier this year to Britain's Billy Joe Saunders; Egyptian welterweight Hosam Abdin upset Thailand's Non Boonjumnong, who finished second at last year's worlds; and Croatian light heavyweight Marijo Sivolija-Jelica lost in his first bout since seeing his first-round foe taken from the ring on a stretcher after losing his equilibrium and collapsing.
Shooting
China's Du Li was supposed to win the first gold of the Olympics. When she finished fifth, she considered dropping out of the games. She stuck around, though, and got a gold after all, winning the women's 50-meter, three-position rifle event and setting an Olympic record in points.
Katerina Emmons, the Czech Republic shooter who won that first event, took the silver. She is married to American shooter Matt Emmons. American Jammie Beyerle was fifth.
In skeet shooting, American Kim Rhode was part of a three-way tie decided by a shoot-off - in the rain. Rhode wound up with a silver to go with the double trap gold she won in 1996 and 2004; the women's version was eliminated before Beijing.
Italy's Chiara Cainero took the gold.
Women's field hockey
No tie for the U.S. this time. They lost instead.
The Americans let a 2-1 lead turn into a 4-2 loss to Germany, dropping to 0-1-2. They'll be hard-pressed to make the medal round with games left against New Zealand and Britain.
"It's been a tough three games for us, but the tournament is still in progress," U.S. coach Lee Bodimeade said.
Men's water polo
The Americans had plenty of chances to upset Serbia, but they were 2-of-27 shooting and couldn't score on three of their five power-play opportunities against a backup goalkeeper. Team captain Tony Azevedo was 0-for-8, including a missed penalty shot.
"After missing the first couple, it seemed like I kept forcing it," he said. "It was totally in my head, not taking the time to relax and put it where I needed to put it."
Two-time defending Olympic gold medalist Hungary improved to 2-0-1 with an 8-5 win over Spain, and top-ranked Croatia thumped Germany 13-5. The Croats are next up for the Americans. Also, Canada's coach was ejected in a loss to Australia, triggering a one-game suspension.
Judo
Fire up the barbecue! Mongolia has won its first-ever gold medal in any sport. Kudos to Tuvshinbayar Naidan for taking the men's 100-kilogram division.
China's Yang Xiuli flipped her first four opponents then won in an overtime decision over Cuba's Yalennis Castillo to take the gold medal in the women's 78 kg.
Badminton
Second-seeded Lee Chong Wei kept Malaysia's best hope for an Olympic gold medal alive with a straight-sets win over Sony Dwi Kuncoro of Indonesia in men's singles quarterfinals.
Lee is bidding to win Malaysia's first gold medal in the Olympics. His girlfriend, Wong Mew Choo, lost in the quarterfinals of the women's singles Wednesday, but was in the stands for Lee's match.
Table tennis
While the Chinese women easily reached the semifinals and China's top-ranked men defeated Australia, the pressure of the Olympics seems to be getting to Wang Liqin. The two-time medalist needed four close games to beat a 147th-ranked foe and acknowledges he's struggling to live up to gold-or-bust expectations.
The U.S. women advanced to the bronze medal round.
Archery
China's Zhang Juan Juan defeated South Korea's Park Sung-hyun 110-109 to win the women's individual gold. She's the first non-South Korean to win the event since 1980.
"I am very sad in a way because I feel I may have broken the tradition set by those archers who were before me," Park said. "However, I feel that by winning the silver, it will make me crave the gold more and make me appreciate the gold more in the future, so I think it's a good experience."
Equestrian
Some things don't change: Germany won the grand prix dressage, just like it's done every Olympics since 1984. The Netherlands took silver and Denmark the bronze.
Copyright 2018 The Associated Press. All rights reserved. This material may not be published, broadcast, rewritten or redistributed. We strive to uphold our values for every story published.