On the street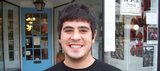 Oh yeah, definitely. I feel like we should not be involved at all. There has also been talk of Israel giving aid to Georgia, so it looks like there is a good possibility it's going to get ugly.
Tbilisi, Georgia — The foreign minister of Russia said Thursday that Georgia could "forget about" getting back its two breakaway provinces, as Russia sent tank columns to search out and destroy Georgian military equipment.
Uncertainty about Russia's intentions and back-and-forth charges clouded the conflict two days after Russia and Georgia signaled acceptance of a French-brokered cease-fire.
U.S. Secretary of State Condoleezza Rice was heading today for Georgia to press the president to sign a new cease-fire between the nations and clear the way for Russian withdrawal.
Georgian officials accused Russia of sending a column of tanks and other armored vehicles toward Kutaisi, the second-largest city in Georgia, then said the convoy stopped about 35 miles out.
"We have no idea what they're doing there, why the movement, where they're going," Georgian Prime Minister Lado Gurgenidze said in a telephone briefing.
Issuing urgent statements in Washington and abroad, President Bush repeated his call for the cease-fire to be honored and demanded that Russia respect the "territorial integrity" of Georgia.
Relief planes swooped into Tbilisi with tons of supplies for the estimated 100,000 people uprooted by the fighting.
Copyright 2018 The Associated Press. All rights reserved. This material may not be published, broadcast, rewritten or redistributed. We strive to uphold our values for every story published.