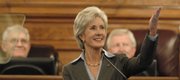 Kathleen Sebelius is the nominee for Secretary of Health and Human Services in Obama's Cabinet. She has served as Kansas' governor since 2002 and before that was insurance commissioner and a state representative.
Washington — Four years ago, Barack Obama, then a little-known state senator from Illinois, rocketed to prominence when he delivered the keynote speech at the Democratic National Convention.
Back in 1988, Bill Clinton, then governor of Arkansas, started his own path to the White House the same way.
But the announcement Wednesday that popular former Virginia governor Mark R. Warner will give the keynote address to millions of TV viewers on Aug. 26, the second night of this year's convention, signifies Democrats' ambitions for his home state as well as for him.
Warner has asked not to be considered as a potential running mate with Obama, the presumed presidential nominee. Warner disappointed supporters when he unexpectedly announced last year that he would not run for president.
Warner is instead running for the U.S. Senate and is heavily favored in a race to succeed retiring Sen. John Warner, a Republican who is not related.
Virginia has not voted Democratic in a presidential election since Lyndon Johnson won a landslide in 1964, and President Bush easily carried the state twice in 2000 and 2004.
But the traditionally conservative state has seen a dramatic Democratic shift in recent years, partly fueled by dissatisfaction with Bush. Both Obama and his Republican rival, John McCain, now consider Virginia a potential swing state.
Both candidates are advertising heavily in the state, and both are publicly considering Virginians as potential running mates - Democratic Gov. Timothy M. Kaine for Obama, and Republican Rep. Eric Cantor for McCain.
Obama, who won Virginia handily during the primary season, chose the state to conduct his first major rally after he clinched his party's nomination in June. Since then, he has opened 28 campaign offices in the state and claims more than 10,000 volunteers are actively working on his behalf there.
In announcing Warner's role Wednesday, Obama's aides praised him as a mold-breaking politician who regularly reached out to Republicans as governor.
"Like Barack Obama, Mark Warner is not afraid to challenge the status quo to bring people together and get things moving," David Plouffe, Obama's campaign manager, said in a written statement.
Plouffe also hailed the former businessman - Warner co-founded Nextel, the telecommunications giant -for his economic record.
Warner's speech is likely to be overshadowed, however, by another speaker that night: Sen. Hillary Clinton, who fought Obama to a near-draw during the primaries.
Others scheduled to speak that night include Kansas Gov. Kathleen Sebelius and Arizona Gov. Janet Napolitano, both reportedly under consideration as Obama's running mate.
Also taking the spotlight will be Gov. Ted Strickland of Ohio, Gov. Ed Rendell of Pennsylvania, Gov. Deval Patrick of Massachusetts, Gov. Brian Schweitzer of Montana, and Sen. Bob Casey Jr. of Pennsylvania.
Obama's wife, Michelle, will speak the first night of the convention.
Copyright 2018 The Lawrence Journal-World. All rights reserved. This material may not be published, broadcast, rewritten or redistributed. We strive to uphold our values for every story published.