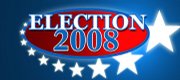 In-depth coverage of the candidates and the issues, all leading up to the Aug. 5 primary and the Nov. 4 general election.
U.S. Reps. Dennis Moore and Nancy Boyda, both D-Kan., and Democratic U.S. Senate candidate Jim Slattery will help kick off the opening of the Douglas County Democratic headquarters Saturday.
The three politicians will speak at the event, which lasts from 10 a.m. to 11:30 a.m. at the headquarters, 925 Iowa. It is located beneath Crimson & Brews.
The headquarters will remain open through the general election, where people can register to vote, get advance voting ballots and learn about local candidates.
Copyright 2018 The Lawrence Journal-World. All rights reserved. This material may not be published, broadcast, rewritten or redistributed. We strive to uphold our values for every story published.