Photo Gallery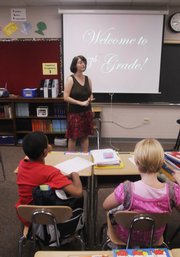 First day of school
It was a day of bright white sneakers and fresh haircuts, catching up with old friends and making new ones. The start of a new school year.
As thousands of Lawrence schoolchildren returned to the classroom Wednesday, sophomores at Free State High School began the day with some trepidation.
"They're immediately trying to seek out other people that they know for some comfort," said FSHS principal Ed West, himself experiencing his first day at FSHS. "Within 20 to 30 minutes they were down on the gym floor, high-fiving and talking to each other and having a good time."
School was back in session for first- through seventh-graders, and high school sophomores. And by all accounts it was a smooth, if not nerve-wracking, transition from summer to school.
Steve Norris was one of 348 FSHS sophomores attending their first day of high school, where they were shepherded by about 90 upperclassman.
"I'm kind of thinking it's going to hit me in like a month, and then I'm just going to be sitting in class, maybe like half asleep on the desk and then my head's just going to pop up, and I'm going to realize I'm in high school," he said.
For some, school seemed less daunting.
"School is about coloring and markering and playing with Play-Doh, painting," said Sunflower Elementary first-grader Jordan Lavin, 6.
Jordan said he felt "like a big kid" on the first day of class.
Chris Bay, principal at Sunset Hill Elementary, said his first- through sixth-graders were excited to be back in the classroom.
"The first day of school is always a highlight," he said. "It's amazing to watch how the kiddos come to us so young and how they grow up when they leave us in sixth grade."
Copyright 2018 The Lawrence Journal-World. All rights reserved. This material may not be published, broadcast, rewritten or redistributed. We strive to uphold our values for every story published.