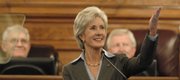 Kathleen Sebelius is the nominee for Secretary of Health and Human Services in Obama's Cabinet. She has served as Kansas' governor since 2002 and before that was insurance commissioner and a state representative.
Gov. Kathleen Sebelius recently reappointed several Kansans, including three Lawrence residents, to various boards and commissions throughout the state.
"I am pleased to see so many Kansans continuing their service to the state," Sebelius said. "These boards and commissions will continue to have the representation they need to make smart decisions for Kansas."
Sandra Jones was reappointed to a four-year term as a member of the Kansas Dental Board, which ensures and protects dental health by enforcement of the Kansas Dental Law.
Winton Winter Jr. was re-appointed to a three-year term as a member of the State Banking Board to administer its statutorily delegated powers; promote competitiveness, financial stability and safe and sound banking practices; and protect Kansas consumers and public confidence.
Robert Honse was re-appointed to a two-year term as a member of the Kansas University Hospital Authority to govern the operations of the hospital and Kansas University Medical Center.
Copyright 2018 The Lawrence Journal-World. All rights reserved. This material may not be published, broadcast, rewritten or redistributed. We strive to uphold our values for every story published.