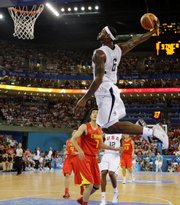 Beijing — If Michael Phelps indeed wins seven (or eight) gold medals and gets his $1 million bonus from Speedo, he'll need to spend a chunk on his buddy Jason Lezak.
Lezak dove in for the last lap of the 400-meter freestyle relay second to world-record holder Alain Bernard of France. He was still trailing with about 20 meters to go, but somehow zoomed to the wall first - 0.08 ahead of Bernard and making Phelps 2-for-2 in his pursuit of Mark Spitz's record medal haul.
Phelps threw his arms up and began hollering with the joy of a lottery winner. He sort of is, considering the odds the Americans faced, from Phelps finishing his leadoff lap in second place to Lezak trailing Bernard after the final turn and considering the history - and big bucks - on the line.
The Americans finished in 3:08.24, lowering by 3.99 seconds the world record set the night before by their qualifying crew.
Katie Hoff knows exactly how bummed the French are.
She built a big lead in the 400 freestyle, but touched 0.07 after Britain's Rebecca Adlington. After two of her five individual races, Hoff has a silver and a bronze - the amount she expected, but not necessarily the right color.
With Christine Magnuson taking silver in the 100-meter butterfly, the United States regained the lead and some breathing room over China in the overall medals race.
Tied at eight when Day 3 began this morning in Beijing, the U.S. tally is up to 11. China is still leading in golds, 6-3.
The other big morning news from China - besides clearer skies, bringing no rain and less smog - was that Spanish cyclist Maria Isabel Moreno was kicked out after testing positive for EPO. She is the first athlete to fail a drug test during the official Olympic doping control period.
The International Olympic Committee said today that Moreno was tested in the athletes' village July 31 and left China later that day before learning the result. The IOC expelled Moreno from the games and asked cycling's world governing body to follow up for any further sanctions. She was supposed to race in the individual time trial.
Swimming
Lezak's lap took only 46.06, which would have shattered Bernard's world record of 47.50. And, to think, at 32, Lezak is the oldest male on the U.S. Olympic team.
Kudos also go to the guys who swam the middle two laps, Garrett Weber-Gale and Cullen Jones. Jones was the only swimmer who also was part of the record-setting prelim foursome.
Something amazing seems to happen every time Phelps is in the water: an Olympic record in his first swim, a world record in his first final and, now, Lezak's big kick.
Well, Phelps also has finished fourth in two 200 freestyle heats. But don't judge him by those. They were merely time he had to put in to get to the finals Tuesday morning. And now, that'll be his bid for his third gold medal of these games. It also would be the ninth gold of his career, tying the record held by Spitz and Carl Lewis.
In other action at the Water Cube this morning, Magnuson finished behind Australia's Libby Trickett; American Brendan Hansen had the agony of finishing fourth in the 100-meter backstroke and the added disappointed of losing his world record to winner Japan's Kosuke Kitajima; and Kirsty Coventry of Zimbabwe set a world record in the 100-meter backstroke semifinals, taking down the mark set this summer by American Natalie Coughlin.
Dara Torres, the 41-year-old mom competing in her fifth Olympics, was given the anchor leg on the 400-freestyle relay. She dove in second and touched the wall second, fending off Australia but unable to make much of a move on the Netherlands despite posting the second-fastest split time in the race.
"I'm hoping that my age paves the way for other athletes who maybe think they're too old to do something," said Torres, who won her 10th medal, her first since 2000. She started her collection back in 1984.
Volleyball
Among the most dramatic moments for Americans on Sunday came from a first-round men's volleyball match against an unheralded foe.
The U.S. team took the court against Venezuela with heavy hearts and a fill-in coach, as Hugh McCutcheon left to be with his wife following an attack at a Beijing tourist site that killed her father and critically wounded her mother.
The Americans huddled, arms linked, then bowed their heads for a moment of silence for Todd and Barbara Bachman, McCutcheon's in-laws and the parents of Elisabeth "Wiz" Bachman, a member of the 2004 U.S. Olympic team.
The men then went out and won their first two games. To claim the match, all they had to do was win one of the next three.
It took all three, but they got it.
"We talked about how the best thing we could do was try to play volleyball," team captain Tom Hoff said.
Women's gymnastics
China was not up to its usual standards. Neither were the Americans. Then again, it was only qualifying. The finals Wednesday surely will be different.
The U.S. squad was limited because Samantha Peszek sprained her left ankle in warm-ups. That left them with only four competitors on floor, vault and balance beam, meaning every score had to count. World champion Shawn Johnson dazzled on the balance beam but the overall effort left something to be desired. Chellsie Memmel fell from the uneven bars and Nastia Liukin fell on the landing in her specialty, the uneven bars.
"We got the nerves out and the mistakes out," Johnson said.
Men's basketball
Playing before an adoring home crowd and a television audience that might have been the largest ever for any sporting event, Yao Ming thrilled 'em all by drilling a three-pointer from the top of the key for the very first basket against the Americans. China hung tough for a while, too, but the high-flying, hard-dunking "Redeem Team" was just too talented.
Dwyane Wade was 7-of-7 and scored 19 points, and LeBron James had 18 in a 101-70 victory. The U.S. squad made 21 of its first 25 shots inside the arc, nearly all right around the rim, but they weren't so hot from long distance - not that it mattered this time.
Manu Ginobili, Luis Scola and defending Olympic champion Argentina lost their opener, going down 78-75 to Lithuania when Denver Nuggets forward Linas Kleiza made a three-pointer with 2.1 seconds left.
Another NBA player to lose was Andrew Bogut. His 10 points weren't enough for Australia in a 97-82 loss to Croatia.
Dirk Nowitzki was 3-of-3 on 3-pointers and scored 23 points, and Chris Kaman topped him with 24, leading Germany to a 95-66 victory over Angola.
Pau Gasol scored 11 points and Rudy Fernandez had 16 as Spain beat Greece 81-66 in a rematch of the 2006 world championship finals.
Tennis
Ana Ivanovic gave away her No. 1 seed at the Olympics, withdrawing because of inflammation in her right thumb that has bothered her for several weeks. Her decision was announced after play was called for the day with only nine of 45 scheduled matches completed.
Ivanovic decided to pull out after trying to practice on the eve of her opening match.
Diving
Phelps isn't the only one at the pool aiming for eight golds. The Chinese divers are, too. And, like Phelps, they're 1-for-1 after world champions Guo Jingjing and Wu Minxia won the women's 3-meter synchronized springboard title. A Russian duo took silver and a pair of Germans got bronze, just ahead of Americans Kelci Bryant and Ariel Rittenhouse. The United States hasn't won a diving medal since 2000.
Cycling
Britian's Nicole Cooke won the women's road cycling race, held in torrential rain on a course that started in Beijing and ended at the Great Wall. Emma Johansson of Sweden got silver and Tatiana Guderzo of Italy the bronze. Americans finished 25th, 33rd and 52nd.
Weightlifting
Thailand's Prapawadee Jaroenrattanatarakoon set an Olympic record - for amount of weight lifted in the women's 117-pound class, not for the number of letters in her name, although that might be up there, too. Her haul was 486.2 pounds. South Korea's Yoon Jinhee finished in second place and Natassia Novikava of Belarus got the bronze.
Melanie Roach set an American record with 424.6 pounds, but it was only good for sixth.
The winner came up with her long name last year, after a fortune teller suggested a name change for better luck. The 21-letter surname, which was only "J" on the scoreboard, means "prosperous." The first name roughly translates to "good girl," said Boosaba Yodbangtoey, the president of the Thai weightlifting federation.
Archery
Nobody beats the South Korean in women's archery.
Seriously, it's never happened. The South Koreans won their sixth straight gold medal, every single one since the event's inception in 1988. China got the silver and France took bronze.
Shooting
David Kostelecky of the Czech Republic hit all 25 trap shooting targets to take gold. Giovanni Pellielo of Italy won the silver and Alexey Alipov of Russia won a shoot-off for bronze. World record-holder Karsten Bindrich of Germany was seventh. Bret Erickson, the top American, finished 22nd.
Judo
Reigning Olympic champion Xian Dongmei of China was golden again in the women's 114-pound division, beating An Kum Ae of North Korea.
Japan's Masato Uchishiba won his second straight Olympic gold medal, pinning France's Benjamin Darbelet just seconds into their final match in the men's 145-pound division.
Fencing
Italy's Matteo Tagliariol topped France's Fabrice Jeannet for gold in a battle of representatives from two of the world's top fencing nations. Spain's Jose Luis Abajo took the bronze.
Track
Sprinter Tyson Gay followed a workout by proclaiming himself "injury-free." He hasn't raced since hurting a hamstring during a 200 heat at Olympic trials in July. His only individual race here is the 100, which begins Aug. 15.
Soccer
The U.S. team gave up a free kick in the third minute of injury time to settle for a 2-2 tie against the Netherlands. China lost 2-0 to Belgium; the Chinese, who haven't scored in the tournament, must beat leader Brazil in its last group match to have a chance of advancing.
Doping
The IOC has kicked out Greek sprinter Katerina Thanou, saying her role in a drug-testing cover-up four years ago in Athens was "a scandalous saga" that had brought the Olympic movement into disrepute.
Beach volleyball
The American duo of Kerri Walsh and Misty May-Treanor began their bid for another gold medal with a decisive victory over a Japanese duo. They needed just 36 minutes in an intermittent rain.
"We're in bathing suits," May-Treanor said, adding that the 87 percent humidity was more of a problem. "We're bound to get wet."
Boxing
Americans went 1-1 in the ring, with Demetrius Andrade beating Georgia's Kakhaber Juania 11-9 and Javier Molina getting clobbered 14-1 by Bulgarias Boris Georgiev.
Men's water polo
The U.S. men beat host China 8-4, giving former Olympian Terry Schroeder a victory in his Olympic coaching debut, albeit over a team that may not win a game.
Field hockey
In their first Olympics appearance since 1996, the Americans dug out of a 2-0 hole and tied Argentina, the worlds No. 2-ranked team, at 2-2.
Sailing
American Zach Railey, ranked only 18th in the world, hauled in first place overall in Finn class, ahead of three-time Olympic medalist Ben Ainslie of Britain.
"I definitely have to say it is an honor to be the lead," Railey said. "But we are just four races into this and it's a long regatta. We're not even halfway."
Copyright 2017 The Associated Press. All rights reserved. This material may not be published, broadcast, rewritten or redistributed. We strive to uphold our values for every story published.