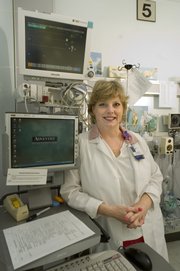 Jack Nicholson's Oscar-winning role in the 1975 film "One Flew Over the Cuckoo's Nest" poses a daily challenge for nurse Beth Baker.
Baker, who coordinates the electroconvulsive therapy program at Shawnee Mission Medical Center, has the task of educating potential patients that the modern-day version of the procedure is nothing like what Nicholson's character endured.
"Everyone mentions it," Baker said of the film that has left a heavy footprint on people's perception of ECT, otherwise known as "shock therapy."
And if you or a family member were considering ECT treatment for a mental illness, it might be hard to erase the images of Nicholson's character being restrained by orderlies and violently shocked, leaving him drooling and dazed.
Baker is the first stop for people considering ECT at Shawnee Mission Medical Center, and she works to educate potential ECT patients and their families about new technology that has transformed ECT from a violent and painful procedure into one performed on anesthetized patients who usually don't even remember having the treatment.
A 22-year-old Lawrence woman who has undergone ECT at Shawnee Mission said the procedure is mostly painless.
"The only things that hurts is the needle going in your arm," she said.
Baker has been in charge of the ECT program since November 2007 but has spent the majority of her 23 years working as a nurse in the mental health field. Baker worked with ECT patients in the 1980s and has seen how far the procedure has come.
Early in her career, Baker came in to see a patient after ECT treatment and asked him to put his socks on. He did, but on his hands. Those types of memory and cognitive problems have been dramatically lessened with better technology and procedures, Baker said.
And for Baker, fighting stereotypes and the stigma about ECT doesn't stop when she leaves the office. When she tells people what she does for a living, she often gets responses that show a continued lack of knowledge within the lay community about modern-day ECT.
"I've had people ask me, 'How can you do that?'" Baker said. "I want people to know that ECT is not like it was in the 1940s."
Copyright 2018 The Lawrence Journal-World. All rights reserved. This material may not be published, broadcast, rewritten or redistributed. We strive to uphold our values for every story published.