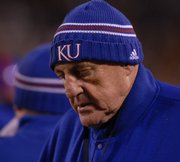 If you had an annual salary package of more than $500,000 and a $54 million operating budget, would you remain a bargain-hunter?
Lew Perkins, Kansas University's 13th athletic director, has. He looks for deals during department store sales.
"It's something I've always done," Perkins admits. "I've never forgotten my roots. Money was scarce and hard-earned."
Born in 1945, he lived on the third floor of a tenement building in Chelsea, Mass., with his parents and sister. They had a washing machine but no dryer; washing was dried on a roof clothesline.
"We didn't know we were poor. Everyone was in the same boat," he says. "We were happy, looked out for each other and shared what little we had."
His mechanic father worked several jobs.
"He could fix anything, but I didn't inherit that gift," Perkins says with a chuckle. "He was a great encourager and always believed his glass was half-full."
Perkins was the first in his family to attend college.
"Leaving home for (the University of Iowa) was the hardest day in my life," Perkins says. "I'd never been away from home, didn't know anyone at college, but playing on the basketball team helped."
He believes team sports are great levelers.
"Everyone's equal on the floor," he says. "It doesn't matter if you're rich or poor - everyone needs to work together as a team."
Homesickness abated after a friend arranged a blind date with Gwen Flaum. They clicked immediately. Their different upbringings - her father was president of General Beadle State College in South Dakota - enhanced their relationship.
"Gwen's family accepted me straightaway," Perkins says. "They taught me about the inside world of higher education."
"Gwen's really smart," he continues. "She graduated in 3 1/2 years; it took me four. We married the day after her graduation. I gave her Dolly, a basset hound, for a wedding gift."
They lived in a tiny apartment above Dunkin' Donuts in Norristown, Pa.
"The entrance was through a fire escape," he recalls. "I can still smell those doughnuts cooking."
They've been married 40 years.
"Gwen didn't try to change me. She's always encouraged and accepted me," he says. "We've a good balance of togetherness and independence. Of course we've had differences, but we're a great partnership. We discuss everything. Gwen's taught me so much, including how to be a good parent to our two daughters."
After graduation in 1967, Perkins worked at the Philadelphia State Mental Hospital.
"It's the toughest job I've ever done," he admits.
He moved into athletics administration in 1969 as head basketball coach and athletic director at the University of South Carolina-Aiken, followed by stints at the universities of Pennsylvania, Wichita State, Maryland and Connecticut. Perkins arrived at KU in 2003 and famously promised to bring the swagger back to Kansas' teams.
His personal swagger came from his father and basketball coaches.
"My father told me to keep my head up and have confidence in myself and my abilities. The coaches did the same," he says. "My father also told me not to worry about succeeding or failing as long as I was willing to learn. He loved saying pencils had erasers to wipe out mistakes."
Perkins says he's grown as much from failures as success and learns something new every day.
How does he switch off and handle the public criticism he's received for making some tough decisions at KU?
"I try not to take work home," he says. "Having our dog Benson helps. I talk, and he just listens. Criticism's part of the job; I don't mind as long as it's reasonable and mutually respectful."
Having great family, including grandchildren and close personal friends, helps.
"I talk to my high school friend every Sunday," he says. "We chat about old times; it keeps me grounded."
He's put the promised swagger back in KU, more than doubled the athletic budget, and has upgraded facilities, with more improvements on the way.
What about bargains for KU fans?
"They get bargains," he says. "It's about choices and being willing to pay for high quality and excellence in every area of KU athletics. I hold the athletic department's keys, but I use the term 'we' because KU is bigger than any of us. If I or any of the coaches or fans leave, KU will remain a strong and great place to be."
Copyright 2017 The Lawrence Journal-World. All rights reserved. This material may not be published, broadcast, rewritten or redistributed. We strive to uphold our values for every story published.