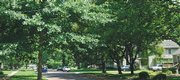 Welcome to our ongoing project, LJWorld.com/Green. Here you can find tips on how to make your life environmentally friendly and read stories about what others in the community are doing to live a more green lifestyle. Eat local, conserve resources, be green.
Representatives of Greenpeace will be in South Park on Thursday afternoon to interview residents about the effects of global warming.
Visitors will be able to record a video or write a postcard or e-mail to congressional leaders and political candidates seeking action to end global warming. The event will be from noon to 3 p.m.
Greenpeace is bringing an educational vehicle that runs on biodiesel and is equipped with 256 square feet of solar panels. It can supply enough energy to power three homes, concerts and other events without creating pollution, according to Greenpeace, an environmental-issues organization.
Copyright 2018 The Lawrence Journal-World. All rights reserved. This material may not be published, broadcast, rewritten or redistributed. We strive to uphold our values for every story published.