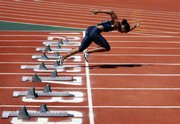 Gold-medal workouts
Age, body weight and resting heart rate, combined with activity level, determine how many calories you'll burn doing various activities. But here are estimates for calories burned per hour for several Olympic sports, from Chris Medlen of Lawrence Athletic Club:
Basketball
130-pound person: 472
190-pound person: 690
Boxing (sparring)
130-pound person: 531
190-pound person: 633
Boxing (general)
130-pound person: 236
190-pound person: 345
Biking
130-pound person: 381
190-pound person: 531
Canoeing
130-pound person: 413
190-pound person: 604
Running (6 mph)
130-pound person: 590
190-pound person: 864
Swimming (general)
130-pound person: 472
190-pound person: 690
Swimming (breaststroke)
130-pound person: 590
190-pound person: 863
Swimming (butterfly)
130-pound person: 649
190-pound person: 949
We aren't all Olympic athletes. But that doesn't mean Olympic sports can't whip us into shape.
Jill Urkoski, fitness director for Kansas University's Recreation Services, says Olympic sports - such as the ones we can watch on TV the next two weeks from Beijing - can jazz up run-of-the-mill workout routines, which might provide the jump-start needed to take fitness to the next level.
"If you've been doing the same program over and over again, your body goes into cruise control," Urkoski says. "Changing up the program might be the most efficient method to get the change you want. It's effective because it can keep you entertained and keep you wanting to be active."
Before summer ticks away, dipping into the pool for a swim can be a good way to work out because it works the upper and lower body and gets the heart thumping. Boxing is another Olympic sport that works both upper and lower body, and if you really work it, you can burn more than 500 calories per hour.
"Boxing is definitely a good sport to try," Urkoski says. "It's aerobic, so it keeps your heart rate up. Plus you keep your hands around your face, which is above the heart, and which is a lot more challenging."
And biking is an activity most people can do with no training and little cost. If you really pump the pedals you can burn more than 350 calories in an hour. Biking doesn't burn as much as boxing, though, because the arms are usually limp.
"Biking is a great activity," Urkoski says. "It might be a little more challenging to keep your heart rate up because you don't use your upper body as much, but it can be very effective."
The goal of an effective workout, Urkoski says, is to get your heart rate into training zone by following the Karvonen formula. To determine your training zone, first track your resting heart rate by placing a finger on your pulse for one minute after sitting for a while. Next, give your brain a break and plug the number into an electronic calculator at www.polar-heartrate-monitors.com/heart_rate_calculator.asp. This Web site will pinpoint your training zone, which is what you should aim for when you work out.
If you're out of shape and just starting out, Urkoski recommends going slowly, working out only two or three times per week. People who lunge into strenuous workout routines right from the start are more likely to quit.
Chris Medlen, a physical trainer at Lawrence Athletic Club, 1202 E. 23rd St., agrees.
"You won't be able to go a whole hour if you start out at too high of an intensity," Medlen says. "You want to get used to it, then pick up the pace. If you start out too intense, your body will be so sore and so fatigued you'll probably just quit."
Copyright 2018 The Lawrence Journal-World. All rights reserved. This material may not be published, broadcast, rewritten or redistributed. We strive to uphold our values for every story published.