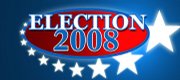 In-depth coverage of the candidates and the issues, all leading up to the Aug. 5 primary and the Nov. 4 general election.
Topeka — Lynn Jenkins owes her Republican primary victory in the U.S. House 2nd District to doubts about her better-financed opponent and a campaign heavy on mailings, meet-and-greet events and an outsider's message.
For weeks, Republicans predicted that Jenkins, the state treasurer, would lose to former Rep. Jim Ryun, who was trying to reclaim the seat he had held for 10 years. As polls closed Tuesday night, some believed Ryun would win comfortably and get a rematch with Democrat Nancy Boyda, who defeated him in 2006.
Yet even some Republicans who believed Ryun would prevail still described Jenkins as the stronger candidate against Boyda - highlighting a key factor in Jenkins' victory. She also ran against Washington, portraying Ryun as part of a GOP majority that had let voters down and deserved its new minority status.
She also built networks of supporters, tapping local officials outside her home base of Topeka. She flooded parts of the district with literature and loaded up her schedule with parades, cake-cuttings and bean feeds.
"Lynn was all over the 2nd District," said Kris Kobach, the Kansas Republican Party's chairman. "She was appearing at events in the far corners of the 2nd District that I wouldn't normally expect a congressional candidate to make it out to."
To be sure, Jenkins' margin was thin. In final, unofficial results, she led by 1,379 votes out of more than 66,000 cast, and Ryun carried 11 of the district's 26 counties.
Ryun raised plenty of money: $1.8 million through mid-July, compared with about $757,000 for Jenkins. He also enjoyed widespread name recognition from his days decades ago as an Olympic runner.
His argued that he lost in 2006 because too few Republicans got to the polls - and turnout then was 23 percent lower than in 2004, when he defeated Boyda handily. His conservative politics gave him a solid base of support, something he sensed as he campaigned.
"It's just been an encouragement to see the people and their hard work," he said, reflecting Tuesday on the campaign.
Ryun also didn't ignore local events or forgo mailings.
"They just swamped us with mail," said Les Richardson, the Linn County Republican chairman. "I'll bet we had 20 pieces from each one of them."
But after the election, Ryun's activity and fundraising seemed to have masked his biggest vulnerability, his loss to Boyda in 2006.
Ryun told voters that he'd learned from that loss, but Kansans are hard to sell on political comebacks.
"I think they thought Lynn Jenkins was going to be the best choice to unseat an incumbent," said Richard Oglesby, the Republican chairman in Franklin County. "I think it was really the fresher face, and Jim had his time."
Jenkins' message was that voters were looking for new leaders, not a return to the past. She said Democrats had failed to provide strong leadership in their two years in charge of Congress - and were put there by voters because Republicans had previously been a disappointment.
In the end, Ryun retained his name recognition, a loyal core of supporters and the necessary competitive drive; he raised enough money to win. But Jenkins developed a message that could resonate and came up with a way to deliver it to just enough voters to overcome Ryun's advantages.
"We knew it was going to be a horse race," she said. "And it came down about where we thought it might."
Copyright 2018 The Associated Press. All rights reserved. This material may not be published, broadcast, rewritten or redistributed. We strive to uphold our values for every story published.