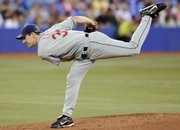 Indians 4, Blue Jays 0
Toronto - Cliff Lee worked eight shutout innings for his American League-leading 16th win, and Cleveland completed a three-game sweep of Toronto.
Lee (16-2) lowered his ERA to 2.45, moving him ahead of Oakland's Justin Duchscherer (2.51) for the major-league lead. He won his fifth straight decision and has not lost since a 4-3 defeat at Minnesota on July 6.
The left-hander is responsible for 16 of his teams 52 wins.
Rays 11, Mariners 3
Seattle - Willy Aybar and Shawn Riggans, the Nos. 8 and 9 hitters in Tampa Bay's lineup, both hit three-run homers, and the Rays set a franchise record with their 71st victory in a rout of Seattle.
Tampa's previous best record came in 2004 when the Rays finished the season 70-92. After taking three of four in Seattle, the Rays are 71-46 and own a 41â2-game lead over Boston in the AL East.
Angels 4, Yankees 3
Anaheim, Calif. - Chone Figgins hit an RBI single with one out in the ninth inning against Yankees closer Mariano Rivera, and Los Angeles completed a three-game sweep of New York.
The Yankees fell 81â2 games behind Tampa Bay in the AL East and are four games behind Boston in the wild-card race.
White Sox 6, Red Sox 5
Chicago - Carlos Quentin hit his American League-leading 32nd homer, Jim Thome and Jermaine Dye connected, and Chicago beat Boston.
Gavin Floyd (12-6) got the win, allowing five runs and seven hits while striking out six and walking one.
Tigers 6, Athletics 1
Detroit - Nate Robertson won for the first time in more than six weeks.
Rangers 15, Orioles 7
Baltimore - Ian Kinsler broke out of an extended slump with a career-high five hits, including a homer, and Texas emphatically ended its own offensive drought.
Copyright 2018 The Associated Press. All rights reserved. This material may not be published, broadcast, rewritten or redistributed. We strive to uphold our values for every story published.