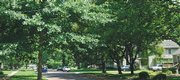 Welcome to our ongoing project, LJWorld.com/Green. Here you can find tips on how to make your life environmentally friendly and read stories about what others in the community are doing to live a more green lifestyle. Eat local, conserve resources, be green.
Olathe — More than 400 students will enter Woodland Elementary School on Friday as the first students in the Olathe school district to experience an entirely "green" school.
It's likely they'll quickly notice a difference. They'll wash their hands under timed water faucets. They'll learn in rooms with strategically placed windows to help them learn with natural light. Teachers and staff who have been working in the building are excited to introduce everything green to the new students, Principal Stacy Shipley said.
"All have said there's a moment where you just stand where we're working and are truly humbled at the fact that we get to work in a building that is so teacher friendly and earth friendly," Shipley said.
Woodland is the first school in the district to be constructed with the intent of gaining certification from the U.S. Green Building Council as eco-friendly under the Leadership in Energy and Environmental Design Program, said Bob Courtney, energy manager for the district. To become certified, the school had to meet criteria in categories related to water efficiency, energy efficiency and the storage and collection of recyclable waste. The district will find out if Woodland is certified this fall, he said.
About 100 schools in the country have been certified, with many more awaiting certification. Others in Kansas City are working toward certification, Courtney said.
The Blue Valley school district has scheduled four buildings to be green, said Dave Hill, executive director for that district's facilities and operations.
"I hope it becomes the norm," Hill said. "They are cheaper to own, environmentally responsible, efficient. It's the right direction to take."
The Olathe district began the process for Woodland to be certified about a year ago, Courtney said.
"We are right on the cusp," Courtney said.
To build a green building required about half a percent more than what the district would normally spend on a building, Courtney said. Schools across the country spend an average of 1 to 3 percent more to build green, according to the council's Web site.
"Because of the efficiency of the building, we expect to recoup savings," Courtney said. "Of course we will be tracking it all year."
Courtney expects other benefits from the healthy aspects of the building. The school has idle-free zones and green HVAC systems and humidifiers, which are supposed to help students with respiratory problems.
"We think this will reduce student absenteeism," Courtney said.
Woodland teachers have formed their own "green team."
They have set four major first-year goals to encourage students to be environmentally friendly.
"I'm excited about seeing kids come into the building and the applications it will have to learning and teaching," said Renita Penn, librarian and green team member.
Students will be involved in schoolwide recycling. They will use less paper in their digital classrooms. Students also will research a community to adopt and assist in green initiatives.
"We want to emphasize stewardship with the students," Penn said. "It will help us teach how we're a global community, to work outside in the community and look outside themselves.
Copyright 2018 The Lawrence Journal-World. All rights reserved. This material may not be published, broadcast, rewritten or redistributed. We strive to uphold our values for every story published.