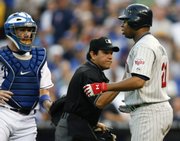 Kansas City, Mo. — If Francisco Liriano is not back to his 2006 form yet, he sure is getting close.
Liriano had his second straight strong start since being recalled from the minors, Delmon Young hit a two-run homer and the Minnesota Twins beat the Kansas City Royals, 7-3, on Saturday night.
The win, combined with the White Sox's loss to Boston, moved the Twins a half-game ahead of Chicago in the American League Central.
Liriano is 2-0 with a 2.31 ERA in two starts, allowing three earned runs and nine hits in 112â3 innings since returning to the Twins from Triple-A Rochester, where he had won his final 10 decisions. Liriano (2-3) gave up three runs on six hits in 52â3 innings with five strikeouts and two walks.
"Frankie threw the ball good," Twins manager Ron Gardenhire said. "I think the long (fifth) inning might have got to him a little bit. I think he had a better breaking ball and changeup than he had a fastball. He pumped his fastball when he needed it and it had some life on it. It was a good performance by him."
Liriano is faring nearly as well as he had in his rookie season in 2006, when he was 12-3 with a 2.16 ERA before missing last year after having "Tommy John" surgery.
"He's working at it," Gardenhire said to get back to his 2006 form. "His velocity isn't the same. He's not quite back to where he was a couple of years ago, but with what he has he is probably better than a lot of guys. He is a force on the mound."
Liriano said he felt "better physically" than in his start a week ago against Cleveland when he threw six scoreless innings.
"My slider was good and my changeup was good," Liriano said.
Young homered off Zack Greinke in the second with Jason Kobe aboard. In the Twins' five-run sixth when they sent 10 men to the plate, Young was hit by a pitch from Greinke. Young flipped his bat several feet in the air and took a few steps to the mound before plate umpire Alfonso Marquez interceded and ushered Young toward the plate.
"There's no doubt," Gardenhire said Greinke threw at Young. "He doesn't miss that bad. That was at his face. If you want to throw inside and knock a guy off, you don't do it at his face. They can say what they want to say."
Young said he should have just gone to first base.
"When it's so close to your head you don't know what's going on," Young said. "If (it was intentional), I was hoping for the ribs or lower. We scored five runs after that. Whatever it did was a good thing for us."
Greinke was ejected from his start Sunday for hitting Nick Swisher of the Chicago White Sox with a pitch in the seventh after both dugouts had been warned following a bench-clearing fracas two innings earlier. Greinke is appealing a five-game suspension.
"That one doesn't have anything to do with this one with us," Gardenhire said. "All I know is my guy is hit after a leadoff triple; you don't want to face a guy who hit a two-run homer. You can put it however you want to spin it and I'll spin it my way. The next ball is at my guy's face."
The Twins' sixth included a two-run single by Denard Span, a sacrifice fly from Justin Morneau and a triple by Kubel. He scored on Brian Buscher's single.
"We've got a one-run game and he hits Young," Royals manager Trey Hillman said. "It should have been obvious to everyone that wasn't on purpose. He's trying to get a fastball inside. That's one of the pitches that got away."
Said Greinke: "It didn't even cross my mind that he thought it was intentional until I saw him look at me. It really shocked me. I was just trying to make a good pitch on the inside corner."
Alex Gordon, who has committed three errors in four games, made a fielding miscue in the sixth, leading to two unearned runs.
Greinke (9-8) allowed six runs - five earned - on nine hits, while walking three and striking out six in five-plus innings.
Liriano, who threw 100 pitches, was replaced by Boof Bonser after giving up a two-run double to Mark Teahen in the sixth. The only other run off Liriano was Miguel Olivo's home run in the fourth.
Copyright 2018 The Associated Press. All rights reserved. This material may not be published, broadcast, rewritten or redistributed. We strive to uphold our values for every story published.