Photo Gallery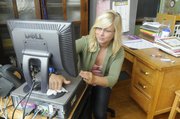 First-year teachers
On the street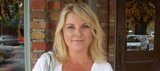 If I knew a lot about what I was talking about, I wouldn't be nervous. But if I wasn't confident in my knowledge of the subject matter, I would be.
Melissa McNair's two years in the Marines are nothing compared with what she'll be facing Thursday: a classroom full of 18 kindergartners.
"I'm nervous," she admits. "But I have confidence."
McNair is one of approximately 30 first-time teachers who will enter the classroom at Lawrence Public Schools this year. School starts for some grades on Wednesday and others on Thursday.
In a career that has high attrition - more than half of Kansas teachers leave the profession within five years of starting - Lawrence Public Schools are honing a multi-tiered mentoring system that gives teachers like McNair encouragement as they face students for the first time.
But that doesn't mean she won't be relying on those years in the military.
"We always had that saying, 'Adapt and overcome,'" she says. "Hopefully, my instincts will kick in."
Long road
"I've kind of taken a different avenue," says McNair, a 30-year-old single mother of three.
As a girl, she always dreamed of being a teacher. But she "didn't grow up in the best of homes" and didn't feel college was an option for her after high school.
So she signed up for the Marines, spending much of the time doing administration work in Okinawa, Japan.
When she got out of the military, she was a stay-at-home mother (her children now are ages 4, 6 and 9). Eventually, after getting a divorce, she decided it was time to fulfill her teaching dream and enrolled at Kansas University.
She says her long road to teaching should make her more effective in her classroom at Cordley School, 1837 Vt.
"I have three children of my own, and none of them are alike," she says. "I'll go back and reflect on that. I might have students reading at the second- or third-grade level like my oldest, or students who have never picked up a book or never been read to. I have the parental perspective not to make judgments about parents as well. I know what I went through as a single mom."
Support system
McNair is the type of new teacher Angelique Kobler will be watching closely this year.
As director of instructional services for Lawrence Public Schools, Kobler's job is to make sure new teachers get the support they need - and don't get burned out.
First-year teachers are assigned mentors in the building where they work and have access to districtwide learning coaches.
"Survival is that big one in the beginning," Kobler says. "They'll ask questions of themselves: Can I make it to the end of the week? Am I really supposed to do this?"
On the flip side, she says, new teachers have a level of excitement that's contagious.
"When they student-taught, they had a foot in the classroom, so it's not a totally brand new experience for them," Kobler says. "But this is totally their classroom for the first time."
Terri Durgan, a 20-year education veteran now teaching fourth grade at Quail Run School, 1130 Inverness Drive, remembers her first year teaching in Maine.
"I remember working a lot of hours on the curriculum side, and learning how to manage children," Durgan says.
Now, Durgan serves as a mentor for new teachers. She says it's easy for them to be consumed by their jobs.
"We need to step back, get enough sleep, rest, find some wonderful things that you enjoy doing," Durgan says. "It's easy to come back nights and weekends and stay up until midnight working on something. ... I always felt I could move a cot into my classroom, be there 24/7 and it still wouldn't be done."
'Young teacher'
With just over a week remaining before she teaches her first math class, Ashley Andreas is decorating her classroom in black and red, the colors of Central Junior High School, 1400 Mass.
"I feel too nervous to not be doing anything now," she says.
Andreas is 24, and, like McNair, is a recent KU graduate.
"I'm most nervous about Parent Night," she says. "Since I'm a new teacher, they're going to ask me a lot of questions. I'm a young teacher."
Still, she's excited to start her new career.
"High school students have more of an attitude," she says. "In junior high, they get over things really quickly."
She knows this is a high-stress career, and she knows, statistically speaking, there's a 1 in 2 chance she won't be teaching in five years.
But she thinks there's a good chance she could retire from teaching a few decades down the road, too.
"I hope so," she says. "I've enjoyed it so far, with student teaching. I think it just depends on the person. Some people get bored easier than others."
Copyright 2018 The Lawrence Journal-World. All rights reserved. This material may not be published, broadcast, rewritten or redistributed. We strive to uphold our values for every story published.