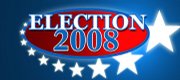 In-depth coverage of the candidates and the issues, all leading up to the Aug. 5 primary and the Nov. 4 general election.
U.S. Rep. Nancy Boyda, D-Kan., has turned her back on $1.2 million from outside Democratic help, saying she wants to maintain an independent campaign for re-election.
"I hope my opponent will join me to demand that these out-of-state groups keep out of Kansas," Boyda said.
Lynn Jenkins, the Republican candidate, declined the offer.
"It's free speech," Jenkins said. "Let anybody come tell their story and let the voters sort it out."
Jenkins is trying to unseat Boyda in the 2nd Congressional District, which includes western Lawrence, Topeka, Manhattan and southeastern Kansas.
In July, the Democratic Congressional Campaign Committee announced it was going to spend $1.2 million in campaign commercials to help Boyda.
In federal elections, third-party groups, such as the DCCC, can raise and spend money to support or defeat candidates, as long as they operate independently from the candidate's campaign.
Federal law kept Boyda from directly asking the DCCC to stay out of the contest, but she said in media reports that she wanted the DCCC to "get the heck out of my race."
Last week, the DCCC complied with Boyda's request.
"This is terrific news for anyone who believes that Kansas voters should control Kansas campaigns," Boyda said. "By canceling their ads, the DCCC has given Kansas the opportunity to run our election without Washington interference."
But Republican Party officials weren't impressed. They criticized Boyda when the DCCC announced it would spend money in her race, and they criticized her when the group decided not to.
Christian Morgan, executive director of the state GOP, said the move by the DCCC not to get involved in the 2nd District race was a business decision.
"It appears that the DCCC doesn't think Nancy Boyda can beat Lynn Jenkins and has decided to spend their dollars elsewhere," Morgan said.
The DCCC disagreed.
"Rep. Boyda is well on her way to victory, and this is nothing more than delusional spin coming from the wounded and divided Republican Party," DCCC spokesman Ryan Rudominer said.
Boyda has already been the target of ads by independent groups that try to help Republicans. The national conservative organization Freedom's Watch has run radio and newspaper ads against Boyda, the most recent of which criticized her about energy policy. Both Boyda and Jenkins support increased domestic drilling for oil.
Jenkins' campaign said if Boyda wanted to remove all outside influences from her campaign, then she should send back donations she received from House Speaker Nancy Pelosi, D-Calif., and U.S. Rep. Charles Rangel, D-N.Y. Leadership PACs from the two have donated $20,000 to Boyda.
But Boyda's campaign said there is no argument about Boyda's independence in dealing with House Democratic leaders. Her campaign noted that in a recent ranking by the National Journal, Boyda's voting record was in the center of the House between conservatives and liberals. The Journal analyzed 107 key votes in the House in 2007.
Copyright 2018 The Lawrence Journal-World. All rights reserved. This material may not be published, broadcast, rewritten or redistributed. We strive to uphold our values for every story published.