Behind the lens interview with photographer Tim Forcade
Photo Gallery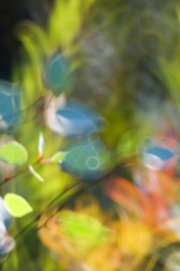 Behind the Lens: Tim Forcade
Tim Forcade is a Lawrence-based photographer whose painterly approach to photography helps to define his work. Forcade's large wall prints can currently be seen at Teller's and Genovese restaurants. I sat down with Forcade on Thursday to chat about his photography. You can hear the complete conversation by clicking on the podcast below.
Q: Most people assume that a large print requires a large camera. What do you use personally?
A: As always, I use anything I can get. ...The Rothko's Edge picture, which is the large black-and-white, 60-inch by 90-inch print, was done with a 6-megapixel camera. It's not how many megapixels you have, it's the work flow that you have to design to get what you want at the other end. Now if you want absolute perfection and fidelity, if what you want to make is a window onto the world ... then you probably want something similar to a digital-view camera.
The thing is, my friend Louis Copt, the painter, says, "Let the viewer complete the painting." And I think that is a very brilliant way to put it. You will make it real. You will make it resolve. When you get back at a reasonable viewing distance, it doesn't matter that there are little imperfections, that maybe it's not tact sharp in one area or another. It doesn't matter.
I have Nikon equipment. I'm just so deep in it lenswise that I can't flip over, but I don't think I would. I've got a D3, and a D200 and a D1, which I sold, and lenses and bellows.
Q: Can you talk a little bit about your work flow, from the time you take a picture to when you print the picture?
A: Well, I previsualize, and this is based on a lot of work. You just work and work and work, and you finally get it figured out ... so I have some notion of what I want at the other end. And I know that my large prints that are painterly in feel to reflect my sensibility, my painter's sensibility. That's my training. I was trained as a painter.
So I don't think so much as a photographer as much as I think like a painter. I'm thinking in terms of space and volume, and pictoral space and moving elements around and causing elements to appear as though it is toward you or back. And so what I do is shoot the pictures, look at the pictures ... I review my shots. I might pick just a representative shot that might work the best and start fooling around with it. I do bracket. I think that is important. I break the image down into its constituent parts. ... It's a painting, really. A lot of times I'm looking at it as an abstract. Even thought there may be hints of objectiveness present in the picture, I don't really think of it that way. I think of it more as form and light and color. And color is absolutely the most important thing to me. That is it.
That's where it starts and ends. And that's why I drive my printer service bureaus absolutely crazy. I will not accept it if it is not exactly the way I want it.
Q: Let's talk a little bit about lens choice. A lot of your work seems to be shot with a macro lens or something with very shallow depth of field. What lenses are you using?
A: I have a whole range of different lenses that I use. Because I'm less interested in edges and more interested in volume, and more interested in color, I don't stop down on anything. I don't use all the aperture that I've got. I very often shoot wide open for everything that I have.
You can see more of Tim Forcade's works at www.forcadeimages.com.
Copyright 2018 The Lawrence Journal-World. All rights reserved. This material may not be published, broadcast, rewritten or redistributed. We strive to uphold our values for every story published.