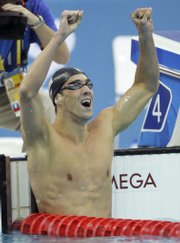 Beijing — Michael Phelps got one of his toughest races out of the way, and it couldn't have been any easier.
With President Bush cheering him on, Phelps dominated his first event of the Beijing Olympics this morning, crushing his own world record and all hopes of his challengers with a mark of 4 minutes, 3.84 seconds in the 400-meter individual medley.
This was thought to be a potential stumbling block in Phelps' quest to win eight gold medals after fellow American and good friend Ryan Lochte matched him stroke for stroke at the U.S. Olympic trials just over a month ago. Both went under the previous world record in the 400 IM then, with Phelps touching first in 4:05.25.
But Phelps beat Lochte when it really mattered. Laszlo Cseh of Hungary took the silver in 4:06.16, while Lochte faded to third in 4:08.09 - more than 4 seconds behind the amazing Phelps.
"I'm pretty happy. That was a pretty emotional race," Phelps said. "I knew it was going to be a tough race all the way through."
Well, it was for a while.
The top three traded the lead over the butterfly and backstroke legs. Cseh got off to a quick start, touching the first wall just ahead of Phelps, and Lochte claimed the lead midway through the back.
Phelps had a slight lead at the 200 mark, and it began turning into a blowout from there.
"Looking and seeing all three of us together pretty much at the 200, I wasn't really comfortable with having that close of a race," Phelps said. "I usually have more of a gap, but it made my breaststroke a lot stronger."
No one was catching Phelps in the freestyle. He stretched his lead and powered to the wall with nearly his entire body in front of the world-record line - a green marker superimposed on the video screen to show the pace of the previous record.
"The freestyle is just downhill," Phelps said. "The freestyle is all adrenaline."
Added Cseh, "I saw Lochte was going (slower) and I tried to do everything to go better than Phelps, but I don't have enough power for that."
No one does.
Phelps touched the wall and spun around so quickly to see his time that he bumped his head. He pumped both arms in the air, and quickly spotted his mother and two sisters in the massive stands at the Water Cube.
He then looked the other way, where Bush was waving his American flag, accompanied by the first lady, their daughter Barbara and his father, former President George H.W. Bush.
"I looked up and he waved the flag and nodded his head," Phelps said. "That was a pretty cool feeling to have the president say congratulations and have him in the crowd."
On the medal stand, Phelps' eyes watered as the U.S. flag was raised to the rafters. The only glitch came during the playing of the "Star-Spangled Banner," which cut off a few seconds before the end, cracking up Phelps.
Lochte, who thought he could give Phelps a run for the gold, was blown out by the world's greatest swimmer.
"I did everything I could, so that's all I can ask for," Lochte said. "That was amazing. Setting another world record, you can't ask for anything else. That was a great way to start off the meet for USA."
Copyright 2018 The Associated Press. All rights reserved. This material may not be published, broadcast, rewritten or redistributed. We strive to uphold our values for every story published.