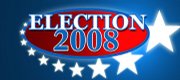 In-depth coverage of the candidates and the issues, all leading up to the Aug. 5 primary and the Nov. 4 general election.
Topeka — An oops from the Secretary of State's office kept vote watchers believing that Douglas County results weren't complete late Tuesday when they really were.
Douglas County election officials faxed the final vote totals from the primary to the Secretary of State's office around 9:30 p.m. Tuesday.
The totals were posted online shortly afterward, but the Secretary of State's site continued to show that several precincts still had not reported.
"It was a human error," said Stephanie Wing, a Secretary of State's office spokeswoman.
"There is a way to set it in the system when a county is final, and that wasn't done," she said. "The numbers were right, but we didn't update the precincts to make the county final."
The error was corrected at 11:47 p.m., she said.
Around that time, the Republican Party's 2nd Congressional District primary between Lynn Jenkins and Jim Ryun was too close to call.
Ryun mentioned several missing vote tallies, including those in Douglas County, when he declined to concede defeat late Tuesday. But shortly after those votes were recorded, he called Jenkins and conceded.
Copyright 2018 The Lawrence Journal-World. All rights reserved. This material may not be published, broadcast, rewritten or redistributed. We strive to uphold our values for every story published.