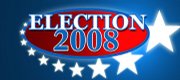 In-depth coverage of the candidates and the issues, all leading up to the Aug. 5 primary and the Nov. 4 general election.
Douglas County Commissioners Friday morning certified 97 provisional ballots from Tuesday's primary election, but the county clerk's office says those votes are not enough to change results in the four county commission primaries.
Clerk's staff members are checking those 97 ballots for write-in votes because a race for Palmyra Township trustee only has a four-vote margin, County Clerk Jamie Shew said.
In that race, Sandy Elliott had 28 votes, and Rex Hagerman had 24. Both were write-in candidates.
Commissioners decided not to count 57 provisional ballots, at the recommendation of Shew's office. They included voters who were not registered in Douglas County, first-time voters who did not provide identification, ineligible party-affiliation voters and advance ballots that were returned undeliverable.
In the county commission races, Jim Flory, Ken Grotewiel, Nancy Thellman and David Brown will move on to the Nov. 4 general election.
Commissioner Bob Johnson was absent for the canvassing Friday morning, but commissioners Charles Jones and Jere McElhaney appointed former commissioner Dean Nieder to sit in his place.
Copyright 2018 The Lawrence Journal-World. All rights reserved. This material may not be published, broadcast, rewritten or redistributed. We strive to uphold our values for every story published.