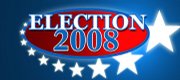 In-depth coverage of the candidates and the issues, all leading up to the Aug. 5 primary and the Nov. 4 general election.
Topeka — Republican Lynn Jenkins and Democratic U.S. Rep. Nancy Boyda on Thursday called for change in Washington as they kicked off their contest against each other to represent Kansas' 2nd Congressional District.
"I am running for Congress to offer a new direction for Kansas, an alternative to the bigger government, higher taxes and irresponsible spending that Democrats are offering right now," said Jenkins, who currently serves as the state treasurer.
But Boyda asked voters to re-elect her to a second term so she could continue to change Congress.
Touting measures she helped push into law, Boyda said, "We've had enough infighting, enough partisanship, and that's why I'm running for re-election - because Congress needs the right kind of change."
Jenkins and Boyda square off in the November general election for the district that includes west Lawrence, Topeka, Manhattan and much of southeast Kansas. The two laid out their cases in back-to-back events in the Capitol.
In the House chamber, state Republicans closed ranks behind Jenkins after her primary win Tuesday over Jim Ryun.
"I believe our party is more united than ever," Jenkins said.
The Republican Party has made the defeat of Boyda a national priority, seeing a chance to make up lost ground in the House.
But Boyda told more than 100 supporters that partisan bickering was poisoning politics and the work of Congress.
"Lynn, I've got some news to break to you: This is not a Republican seat; this is not a Democratic seat, either. This is a seat for Kansas," Boyda said.
Boyda talked about legislation that she authored to strip the pensions of crooked politicians, reduce taxes for military families and release to the public her proposed budget earmarks.
"That's the right kind of change," she said.
At the Republican event, GOP officials blamed Boyda for the high price of gasoline, with U.S. Rep. Todd Tiahrt, R-Kan., calling it the "war on the poor."
But Boyda said it was incorrect to blame Democrats for gasoline prices and foreign dependence on oil.
"This is a problem that we didn't get into overnight, and we're not going to fix it overnight," she said.
Ryun, who lost to Boyda in 2006, said he would back Jenkins.
"In 2006, Kansans voted for change. Kansas sure got change, but it was the type of change they could do without," Ryun said.
Defeated again in 2008, this time in the primary against Jenkins, Ryun was asked what his future would be. He replied: "Vacation."
Copyright 2018 The Lawrence Journal-World. All rights reserved. This material may not be published, broadcast, rewritten or redistributed. We strive to uphold our values for every story published.