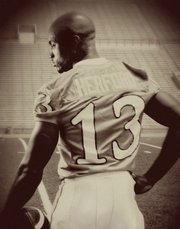 As a redshirt junior last year, Marcus Herford earned a major name for himself as a killer kick returner.
Herford was named Big 12 Special Teams Player of the Year in a coaches' vote and earned a spot on Phil Steele Magazine's All-Big 12 First Team as a return specialist. Big 12 coaches, the Fort Worth Star-Telegram and Rivals.com also awarded him All-Big 12 Second Team Return Specialist honors.
Herford broke countless school records, including game kickoff returns (6 vs. Nebraska), game return yards (203 vs. Nebraska), season kickoff returns (31) and season return yards (888).
Yet Herford remains listed on KU's roster as a wide receiver, despite catching just three passes for 35 yards in the 2007 season.
"It's really whatever," Herford said Tuesday at KU Media Day. "Everybody labels me. I don't really consider myself anything but a player trying to help the team win."
Herford has certainly done his part to lead KU to victory, and it is likely he will continue his role as a return specialist, regardless of what the roster says.
"(I want to contribute) any way I can," he said. "Of course I want to (contribute) with special teams because that's what I do, but if I'm out there as receiver, it's the same deal. I want to help this team get to another level."
Don't expect Herford, a self-professed team player, to get too confident with all his awards.
"I'm a very spiritual guy and I feel that God has blessed me with these skills for a reason," he said. "I never look past the fact that I have great guys blocking for me every time I touch the ball and great support. I know without those guys, I wouldn't have won those awards."
However, there is one more area that Herford is itching to leave his mark. He is currently second at KU in career kickoff returns and return yards.
"That would be such a great honor to get that record," he said. "That's something to show my kids, whenever I do have any, in the future."
Whatever role he plays on the field, Herford is ready for the upcoming season.
"It all started back in winter conditioning and working up," he said. "We're working hard and trying to focus on being an even better team than last year.
"We still have the same eagerness to want to come out in practice and play hard. That's our motto. We got to go out there and play hard every day."
Copyright 2018 The Lawrence Journal-World. All rights reserved. This material may not be published, broadcast, rewritten or redistributed. We strive to uphold our values for every story published.