Photo Gallery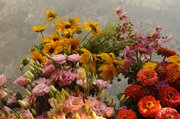 A family affair
Photos from the 20-acre cut flower farm owned by Lynn Byczynski and her husband, Dan Nagengast
Lynn Byczynski and her husband, Dan Nagengast, dream of fields of flowers - rows upon rows of oddly shaped, brightly colored, tall, squat, wispy, erect, aromatic flowers that stare at them in the dew of the dawn of a new day.
They begin each day with a bucket, water and the promise of what these cut flowers will become at the hands of a designer and the eventual gaiety they are bound to bring their ultimate recipient.
"It is pretty relaxed at this point," Byczynski says of growing cut flowers. "We've figured it out after 20 years. It is really quite pleasurable; in fact, counting the picked stems is very meditative, like chanting a mantra."
Byczynski and Nagengast have been market farming for a couple of decades now. Nagengast, formerly Kansas director of Church World Services, and Byczynski, a former reporter for the Kansas City Times, began in Topeka growing vegetables and even had their own community-supported agriculture network.
The couple eventually moved their 20-acre spread to just south of Lawrence, where the rest started coming up roses, zinnias and lisianthus.
"When we started, there were very few local cut flowers," Byczynski says, "But now small growers have been bringing this product to market. Farmers' markets have exploded all over the U.S. The demand has grown for these high-quality, specialized products. Soon the large businesses see the potential and get on board."
In their case, these larger businesses have seen the light. Byczynski and Nagengast sell their cut flowers to Porterfields Florist in Topeka, and they also sold to the Community Mercantile but have since taken on an even larger grocer, Ball Foods, which owns the Hen House chain.
Byczynski also is an authority on growing for the market. She writes a monthly newsletter, "Growing for Market," and is the author of several books, including "The Flower Farmer: An Organic Grower's Guide to Raising and Selling Cut Flowers." She also is a board member for the Kansas Land Trust and an employee at the Kansas Biological Survey.
"I think I've been an environmentalist for 35 years," Byczynski says. "I took a little detour into reporting, but this has always been my primary interest. It just feels right - I feel fortunate to have put together a livelihood about a cause I care about."
Nagengast is equally busy with tending to their organic fields, and he is director of the Kansas Rural Center, a nonprofit organization that works on sustainable agriculture and rural businesses.
The couple's children Will, 19, and daughter Laurel, 15, are primary employees in the fields.
"This is the first summer it is just our kids and us," Byczynski says. "Dan and Will do all of the fieldwork. Dan and I do the greenhouse work; I do the marketing, planning, variety selection and ordering. Dan, Will, Laurel and I do the harvesting, and Will does the delivering. I get much of the credit because of my books, but I couldn't do it without my family. It truly is a family affair."
The farm has four hoop houses and one heated greenhouse, which allows the family to have a much longer growing season, less insects, fewer diseased flowers and a much larger yield. An expansion of drip irrigation systems keeps the fields profusely blooming.
"You always have to succession plant," Byczynski says. "You have to keep planting until the frost takes them out. We'll plant zinnias at least four times a summer, for instance. All together we have around 200 different flowers that grow. I always try something new like Orlaya Grandiflora, a minor crop but a great filler flower."
In fact Byczynski, is taking part in the seed trial program for the Association of Specialty Cut Grown Flowers. They send her seeds to experiment with, and this year she received Frosted Explosion Panicum, a tall grassy plant that resembles a firework.
While Byczynski has been a longtime environmentalist, she says she is thrilled that others now are tuning in to the green movement.
"There is a new green consciousness, thank goodness," she says. "People are starting to realize how they spend their money affects our carbon footprint, small farms, and consumers want to do the right thing. They want to support local growers and see farmland preserved."
Copyright 2017 The Lawrence Journal-World. All rights reserved. This material may not be published, broadcast, rewritten or redistributed. We strive to uphold our values for every story published.