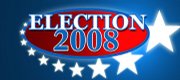 In-depth coverage of the candidates and the issues, all leading up to the Aug. 5 primary and the Nov. 4 general election.
A review of votes in Shawnee County Wednesday did not change the result of the 2nd Congressional District Republican Party primary: Lynn Jenkins won.
Shawnee County Election Commissioner Elizabeth Ensley discovered a data entry error had thrown off the vote totals in about 40 of the county's 198 precincts.
With Jenkins and former Congressman Jim Ryun locked in a tight contest, the outcome of the contest was up in the air for a few hours.
But after a re-examination of the votes, Jenkins increased her lead in Shawnee County.
"We're moving on," Jenkins said.
She will now face U.S. Rep. Nancy Boyda, D-Topeka, in the November general election.
In unofficial results posted by the Kansas Secretary of State's office early Wednesday, Jenkins defeated Ryun 32,240 to 31,233, a difference of 1,007 votes.
But Ensley found out Wednesday morning that in precincts where ballots were cast by soldiers serving overseas, their numbers were put in the wrong column, which kept more than 4,400 votes of those using optical scanner ballots from being counted.
After those were counted, Jenkins' 8,873 votes in Shawnee County increased to 10,535 votes, and Ryun's 7,005 votes increased to 8,293 votes.
Statewide, the final tally was 33,907 for Jenkins and 32,528 for Ryun.
Copyright 2018 The Lawrence Journal-World. All rights reserved. This material may not be published, broadcast, rewritten or redistributed. We strive to uphold our values for every story published.