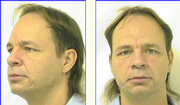 A 50-year-old man escaped from the Sexual Predator Treatment Program at Larned State Hospital early Tuesday morning.
At 2 a.m. hospital staff were unable to locate Perry Lee Isley Jr.
The Pawnee County Sheriff's Office is leading the investigation with local and state officials to locate Isley. Any individual on escaped status should be considered potentially dangerous.
According to the Kansas Department of Corrections, Isley was convicted in Shawnee County and sentenced on July 6, 1995, on two counts of aggravated indecent liberties with a child under the age of 14.
Isley has previously escaped from custody in Pawnee County on April 24, 1987.
Authorities describe Isley as white, 5 feet 7 inches tall, weighing about 168 pounds. He has brown hair and hazel eyes.
According to Michelle Ponce, director of communications for the Kansas Department of Social and Rehabilitation Services, Isley is known to have connections to Colorado and Oklahoma.
Anyone with information regarding Isley or his whereabouts is asked to call 1-800-572-7463.
Copyright 2018 The Lawrence Journal-World. All rights reserved. This material may not be published, broadcast, rewritten or redistributed. We strive to uphold our values for every story published.