What's on the ballot for today's primary
Congress
¢ U.S. Senate: Jim Slattery and Lee Jones, Democrats.
¢ House District 2: Lynn Jenkins and Jim Ryun, Republicans.
¢ House District 3: Nick Jordan and Paul Showen, Republicans.
Kansas State Board of Education
¢ District 4: Alan Detrich and Robert Meissner, Republicans.
Douglas County Commission
¢ 2nd District: Ken Adkinson and Nancy Thellman, Democrats; Grant Eichhorn and David Brown, Republicans.
¢ 3rd District: Ken Grotewiel and Clenece Hills, Democrats; John Tacha and Jim Flory, Republicans.
Jefferson County
¢ 2nd District Commission: David Christy and Roy Dunnaway, Republicans.
¢ 3rd District Commission: Francis Grollmes, Ronald Herring and Fairley McCain, Democrats; LaVerne Clark and Richard Malm, Republicans.
¢ County Attorney: Mike Hayes and Caleb Stegall, Republicans.
Leavenworth County
¢ 3rd District Commission: John Flower, Francis Hurla, Tony Klamm, Bill Merkel, Beverly Oroke, Dave Taylor and Marvin Torneden, Republicans.
¢ County Attorney: Todd Thompson and Deb Snider, Republicans.
¢ State Representative, 42nd District: Ted Ingerson and Connie O'Brien, Republicans.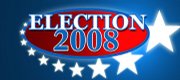 In-depth coverage of the candidates and the issues, all leading up to the Aug. 5 primary and the Nov. 4 general election.
The heat might keep some voters away for today's primary election.
But Douglas County Clerk Jamie Shew said on Monday that he was optimistic that competitive County Commission races could produce better turnout than the 12 percent in the August 2006 primary.
"I'm always optimistic," Shew said.
He's predicting 18 to 20 percent.
Secretary of State Ron Thornburgh last week predicted a statewide turnout of 19 percent, although he conceded it could be higher in the 2nd Congressional District, where Republicans Jim Ryun and Lynn Jenkins will seek the nomination to face Democratic Rep. Nancy Boyda.
That district includes western Lawrence.
In Douglas County, there are two candidates in each party for two county commission seats.
At this point, the numbers might support Shew's prediction for a higher turnout compared with two years ago.
The clerk's office had collected 1,100 advance ballots through noon Monday. Mail-in ballots are still coming in.
Before the 2006 primary, voters had cast only 974 advance ballots.
Voters not affiliated with a political party can still participate in today's election. Independent voters can change their registration to Republican at polling sites. Or, they can ask for a Democratic ballot in order to vote in those contests.
Polls are open from 7 a.m. to 7 p.m.
Voters can view a sample ballot before they go to the polls at www.douglascountyelections.com.
Voters in a few precincts have been mailed notification letters about polling place changes.
¢ Precinct 8 will now permanently vote at Trinity Lutheran Church, 1245 N.H., instead of the South Park Recreation Center.
¢ Precinct 10's voters will temporarily cast ballots at Immanuel Lutheran Church, 2104 Bob Billings Parkway, instead of the Burge Union.
¢ Precinct 37 voters will report to Prairie Park School, 2711 Kensington Road, for this election because Coffin Sports Complex lacks air conditioning.
¢ In Precinct 64, the location is Veritas Christian School, 256 N. Mich., instead of the North Wakarusa Fire Station.
¢ Precinct 41 voters will report to the Lawrence Visitor Center, 402 N. Second St., instead of Woodlawn School.
Copyright 2018 The Lawrence Journal-World. All rights reserved. This material may not be published, broadcast, rewritten or redistributed. We strive to uphold our values for every story published.