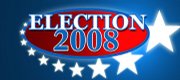 In-depth coverage of the candidates and the issues, all leading up to the Aug. 5 primary and the Nov. 4 general election.
Nick Jordan easily won Tuesday's Republican Party primary in the 3rd Congressional District to set up a matchup with Democratic incumbent U.S. Rep. Dennis Moore, who is seeking his sixth term.
Jordan, a state senator from Shawnee since 1995, defeated Paul Showen, also of Shawnee. Jordan was up 76 percent to 24 percent, with 90 percent of the precincts reporting, according to unofficial results.
Showen was not expected to win. The retired construction worker reported no campaign expenditures, and he placed fourth out of a four candidate field in the 2006 GOP primary for the same seat.
Meanwhile, Jordan has the backing of GOP leaders - both President Bush and Vice President Dick Cheney have helped him raise campaign funds - and has been running against Moore, of Lenexa, for months. Jordan has roughly $616,000 on hand, compared with Moore's $1.1 million.
Jordan has touted his experience in the Legislature working on measures aimed at improving the economy, such as the legislation that started the Kansas Bioscience Authority.
Jordan comes from the conservative wing of the Republican Party.
Moore has defeated conservatives and moderates in his string of victories.
The district includes eastern Lawrence and Douglas County and all of Johnson and Wyandotte counties.
Libertarian Joe Bellis, of Overland Park, and Reform Party candidate Roger Tucker, of Ottawa, will also be on the ballot Nov. 4.
Primary results
Race results, including precinct-by-precinct breakdowns:
Johnson County Attorney: Steve Howe, 33,260 votes; Phill Kline, 22,188 votes
Copyright 2018 The Lawrence Journal-World. All rights reserved. This material may not be published, broadcast, rewritten or redistributed. We strive to uphold our values for every story published.