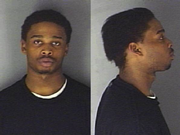 Lawrence Police have identified a suspect in a June 7 aggravated assault involving gunfire in the 1800 block of New Hampshire Street, behind Kwik Shop.
Emmanuel Rashad Walker, 21, is thought to be in Topeka or the Kansas City area, according to a Lawrence Police Department news release. Walker is considered armed and dangerous, and a warrant for his arrest was issued.
Walker is wanted in connection with shots that were fired during a fight outside the Kwik Shop at 19th and Massachusetts streets. Witnesses said a gray Chevrolet Caprice and a red Honda Civic pulled into the store's parking lot about 1:10 a.m. June 7; an argument between passengers in the cars ensued. The Honda fled the parking lot and was chased by the Chevrolet. At least six gunshots were heard after the cars sped away, according to police.
Several shell casings were found on New Hampshire Street; bullet holes were found in three nearby houses.
Lawrence police Sgt. Bill Cory said Walker, a Topeka resident, is 6-foot-5 and weighs 215 pounds.
Anyone with information regarding Walker's location is encouraged to call the Lawrence Police Department at 832-7509 or the CrimeStoppers hot line at 843-TIPS (8477).
Copyright 2018 The Lawrence Journal-World. All rights reserved. This material may not be published, broadcast, rewritten or redistributed. We strive to uphold our values for every story published.