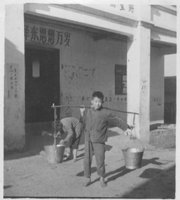 On Friday, China native Ray Chao, like millions of people worldwide, will tune in to the 2008 Olympic Games' opening ceremony in Beijing.
The Lawrence resident will watch the world's top athletes embark on attempts to achieve their dreams of winning Olympic gold. He also will sympathize with those whose hopes are shattered in China, as his were 40 years ago.
During the Chinese Cultural Revolution, his highly educated, professional parents were reviled as "black" or "bad" while uneducated people were honored as "red" or "good."
"When I was 10, the Red Guards burst into our home," Chao recalls. They pinned my mother down, shaved her head, beat her badly and dragged her off to jail."
After a pause he continues: "I froze. I clutched my prized possession, a little tin battery-operated boat. The guards snatched it from me and smashed it to pieces with a hammer."
His father was jailed, too, leaving Chao and his sister home alone. Guards regularly forced them to vilify their "bad" parents and pledge allegiance to the "good" Communist Party.
"They threatened to kill our family if we didn't," Chao explains. "One of my friends saw his parents being blown apart after they'd been tied together with a grenade placed between them."
Somehow, Chao's family members survived, and four years later they were banished to a remote village near Vietnam.
"The guards warned villagers to treat us badly," Chao said. "We were overjoyed."
Overjoyed?
"Overjoyed," Chao repeated. "We were alive and together as a family. Our glass was half-full."
Life improved considerably when villagers discovered his father was a surgeon. They created a makeshift hospital, and people came from miles around for treatment.
News of his father's successful work reached the Party. The family was moved to an industrial town that needed a doctor. When his father sought permission to educate both children, it was granted - for one.
"I told my sister to go to school because I was physically stronger," Chao said.
He was separated from his family again and forced to work in the fields.
After leader Mao Zedong's death, things changed. His English professor mother was head-hunted to teach at Nankai University, Tianjin. She agreed on condition her family joined her. The Party agreed, and they were reunited. When a Kansas University contingent visited the university to discuss plans for an exchange program, his mother was their official tour guide. Their leader, longtime KU professor and administrator Del Shankel, invited Chao's mother to teach at KU for a year.
She agreed.
On her return, she asked Chao, who'd become pretty wild, if he wanted a fresh start in America. He did. With help from the Shankels, the 23-year-old arrived in Lawrence in 1982 with an adjusted attitude and little money.
"I was determined to make the most of my life," he said.
He worked several other odd jobs and attended KU.
He placed an ad on the Applied English Center's bulletin board, offering Chinese lessons in exchange for English ones.
Beth Wheeler, from Texas, a post-graduate student in East Asian studies, responded. Their learning went beyond language, and they married in 1985.
"We were both studying, had a daughter and financial challenges, but I was happy," he says. "I was being educated, had a beautiful family and was free from fear the government would separate us."
Chao eventually gained U.S. citizenship. The couple are still married, and their grown daughter teaches at Raintree Montessori School.
Chao now an associate consultant at an engineering firm, and his parents, also U.S. citizens, live in Dallas where his father held a research teaching post at the University of Texas Medical School.
Chao, now 49, returned to China several years ago and visited the village where his family had been exiled.
"Old women ran up to me weeping and showed their scars," Chao says. "They kept repeating, 'Your father saved my life.' Others gave me gifts. After 30 years they still remembered us; isn't that something?"
Chao is visibly moved.
So what's his view on China hosting the Olympics?
"I'm surprised the Olympic Committee was convinced by China's promises," he said. "China wants to create a good face for the outside world. It'll put on a good external show, but freedoms are still restricted, and pollution is very bad. Change is taking place, but more work needs to be done for human rights."
Chao acknowledges his debt to America, and gives generously to help others, such spending vacation days volunteering at sites damaged by Kansas tornadoes.
"I wouldn't be free and happy today if it wasn't for the American people who helped me and my family," he said. "I got a second chance at life and had my hope restored. I want to help make the world a better place for others."
Copyright 2018 The Lawrence Journal-World. All rights reserved. This material may not be published, broadcast, rewritten or redistributed. We strive to uphold our values for every story published.