Field station, ecological reserves offer glimpse of pristine prairie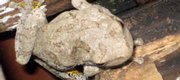 -->
-->
Strap on some walking shoes, but leave the dog at home.
With the help of a $17,558 grant from the Topeka-based Sunflower Foundation, the Kansas University Field Station and Ecological Reserves will start expanding its walking trails this fall.
Scott Campbell, associate director of the reserve, said the walking trails would loop around the new Suzanne Ecke McColl Reserve, an addition to reserves purchased in 2004 and dedicated in 2007.
Campbell said the station hoped to eventually host school field trips and be a place for people to spend time in one of the few remaining prairies in the area.
According to the Sunflower Foundation, the $17,558 grant will go toward building a 2,689-foot concrete walking trail connecting two natural trails.
Campbell said that the reserves had not been open to the public for long periods of time because of concern that people might disturb delicate experiments taking place in the area.
"It wasn't entirely agreed what should be opened to the public," he said. "But there are some distinct advantages to allowing people to experience parts of the reserves."
The walking trails are just for that, walking. No bikes or pets will be allowed.
At present, the reserve has one 2.1-mile walking trail on the Fitch Nature Preserve. The new trail will be constructed across a road in the recently purchased McColl Reserve, about three miles north of Lawrence.
Bob Hagen, courtesy assistant professor of ecology and evolutionary biology at KU, said it was important for students and the public to have access to the reserves.
"There are fundamental things that a generation ago, kids tended to get as a result of just running around outside," he said. "Gradually, some of that basic knowledge just sort of filtered in. You know what a snake is because you picked it up and played with it."
Copyright 2018 The Lawrence Journal-World. All rights reserved. This material may not be published, broadcast, rewritten or redistributed. We strive to uphold our values for every story published.